New York food critic blames Anthony Bourdain for city's food truck 'menaces'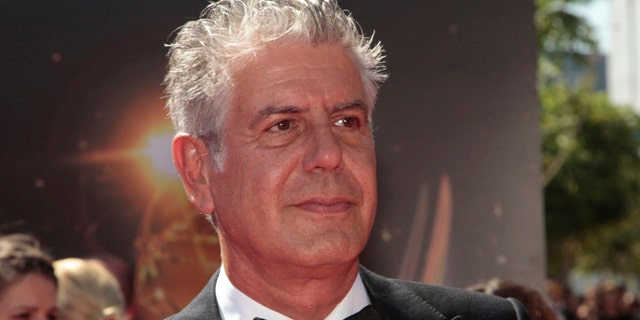 NEWYou can now listen to Fox News articles!
A New York City food critic has apparently had it with outspoken chef and TV personality Anthony Bourdain hawking food stalls and carts at the expense of larger establishments.
Bourdain has traveled the world, sampling food at some of the most expensive eateries as well as partaking in humble street food in dozens of cities. He's also well-known for being a major supporter of food trucks and, recently, he's been advocating to get more permits for trucks in his hometown of New York City.
But New York Post critic Steve Cuozzo doesn't think these food trucks deserve any more street space, and, furthermore, they're taking business away from traditional brick-and-mortar shops.
"Since Bourdain first romanticized it on TV, street food has become the Holy Grail of gallivanting chefs who prowl the Third World in search of obscure, peasant-wrapped dumplings before bedding down for the night in five-star hotels," Cuozzo opined.
He continued, "Bourdain's great and deserved popularity infected New Yorkers with a craving to track down their own favorite street epiphanies...But, agh — the flies, bird droppings and unpalatables you can't see. The Department of Health and Mental Hygiene punishes indoor eateries for hand-wash signs that are an inch too far from the sink."
ANTHONY BOURDAIN REVEALS HIS BIGGEST FEARS
Bourdain was recently featured in a video for the Street Vendor Project encouraging the New York City Council to nearly double the number of permits for food carts and food trucks from New York's current 4,235 to 8,000 by 2023.
"There is nothing more vital to a … city's health than good street food and more of it," Bourdain says in the video. "More permits, not less."
Cuozzo strongly disagrees with the "Parts Unknown" host, writing "...although I get a kick out of watching rich Wall Street guys stand in the cold for 20 minutes to buy lukewarm tacos. Most of what's cooked and sold on the street is meh at best."
He adds that the food-trucks draw business away from brick-and-mortar businesses, cause unavoidable smells and clog up the city's already crowded streets.
ANTHONY BOURDAIN SAYS HE WOULD NEVER DINE WITH DONALD TRUMP
Bourdain's love of street carts is well-known. He once proclaimed "La Guerrerense," in Ensenada, Mexico, "the best in the world."
In 2019, Bourdain is set to open "Bourdain Market" on the Hudson River in Manhattan. Details have been scant, but he told the New York Times to, "think of an Asian night market," he said. "Eating and drinking at midnight."
This isn't the first time the notoriously foul-mouthed chef has gotten into it with another culinary personality. In the past, he's taken several digs at Food Network star Guy Fieri, over his signature spiky hair style and flamboyant clothing.