New Year's Eve entertaining guide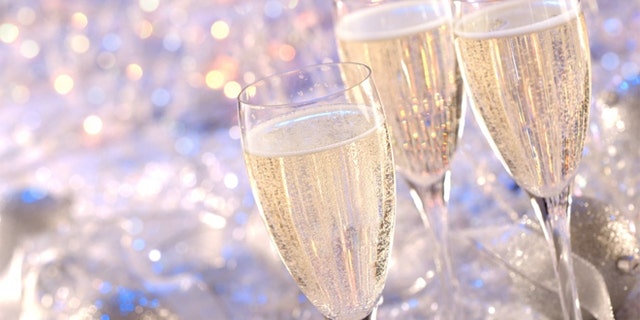 Are you ready? 2013 is just around the corner. After the last of the Christmas wrapping paper has been thrown away and the leftovers eaten, it's time to do it all over again with one final holiday bash.
If you're not sure how to pull a celebration together, or worried about if you have the energy for one last party push, never fear because Fox News has several festive options for you no matter your personality and style.
For the First Time Hostess:
If every New Years Eve you think to yourself, "I want to have a party," but are too nervous, then this is your year! Start with the basics. There are several important rules to keep in mind when throwing a party. Lucky for you, "Top Chef" judge Padma Lakshmi offered us some easy tips this holiday season.
Hosting Tips from Padma Lakshmi
When planning the menu, it's important to keep it simple. Don't add extra stress by tackling a recipe that's difficult or one that you haven't tried. New Years Eve always screams cocktail party and finger foods.
Go for simple ingredients with big flavor, such as Smoked Ora King Salmon Cauliflower and Strawberry Salad served on individual spoons. It's a tasty combination of sweet and tart packaged in one bite. Plus serving smoked fish adds a fancy finish.
Recipe: Smoked Ora King Salmon Cauliflower and Strawberry Salad
Keeping with our bite-sized theme, try salty smoky bacon wrapped around a sweet prune. The different textures and flavors in this effortless appetizer are sure to stand out.
Recipe: Prunes wrapped in Bacon
Our tropical fish and chips is the most complicated of the appetizers, but totally worth the effort. Halibut and shrimp combined with delicious citrus and spicy peppers. Putting these fresh ingredients into a mini martini glass (which can be purchased at any party store) really adds a touch of party planning elegance.
Recipe: Tropical Fish and Chips
Now, on to the drinks because what's a cocktail party without those?
Churchill's Holiday is made up of warm spices, sweet apple, and bourbon (to keep you warm). The recipe below is for a single serving, but we recommend making a larger batch in a punch bowl. That way you aren't mixing drinks all night.
Wine and beer are always a safe choice --but champagne is a must. Here are some of the finest picks for your guests.
But whatever you serve--be it white, red or sparkling --if you have any doubts about which glass to pick, check out these expert tips.
Glassware tips for holiday entertaining
In the colder months, you should have some heavier darker beers on hand especially for the non-wine drinkers. These will have a deep rich flavor.
Last, but not least we have dessert. Stick with your bite sized theme and create something that can be eaten by hand. Try these chocolate whoopie pies filled with marshmallow cream.
Recipe: Betty Crocker Whoopie Pies
If you're looking for a dessert drink then look no further than Monkey Business. It's a rich and creamy Chilean cocktail similar to our eggnog.
For the Non-Cook:
So cooking isn't your thing? No problem. Keep it simple with just appetizer and a few sweet things. Here are some easy, no-fuss dishes that will be sure to please.
Start with some easy dips -- add chips, pita wedges and pre-cut vegetables and you've got enough nosh to keep your revelers reveling.
Recipe: Crockpot Spinach and Artichoke Dip
To ensure that you have enough food consider buying some frozen appetizers. These are so good people will think they're homemade.
The Best Frozen Hors D 'Oeuvres
These recipes take almost no time at all--and you won't even have to turn on the oven.
For the Adventurous Crowd:
Why not kick off the New Year with a multicultural potluck dinner? Did you know that eating certain foods in different cultures bring you luck throughout the year? Before planning your party check out some light reading on the subject.
Foods to bring Luck, Fertility, and Wealth
Ring in the New Year with Good Luck Food
Assign each of your guests a country and a lucky food item to prepare. We wanted to get you started on your journey so here are a few recipes you can make.
Begin your multicultural night of luck in Mexico with a cocktail. Bright red pomegranate mixed with smooth tequila to make the perfect drink.
Recipe: Rose Mexicano's Pomegranate Margarita
Moving on to Asia where noodles will bring you good fortune. Make cold peanut sesame noodles --to help bring you luck all year long.
Recipe: Cold Peanut Sesame Noodles