New Jersey woman claims her Dunkin' Donuts sandwich was 'crawling with bugs': 'I was screaming'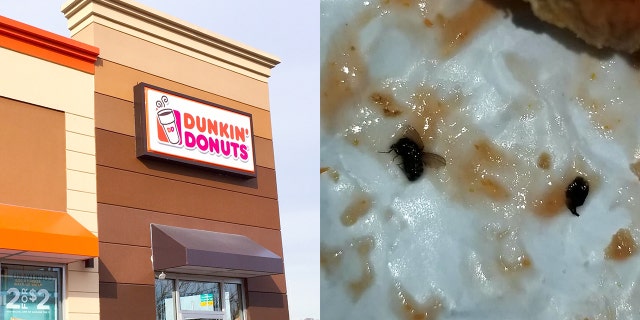 NEWYou can now listen to Fox News articles!
A mother of two claims she opened her sandwich from Dunkin' Donuts to find it covered with worms and flies.
Krystle Platzer was in a rush on the morning of Oct. 18 and left the house in a hurry to make her 9.30 a.m. meeting at her son's school. After the meeting, she decided to stop by a drive-thru Dunkin' Donuts in Lakewood, NJ with her two-year-old son to grab a quick breakfast.
"My baby was hungry, and was screaming. I was driving, so I gave him the sandwich to eat. I did notice that it wasn't hot when I handed it to him, which was weird. He ate the whole thing," she said.
NORTH CAROLINA RESTAURANT SERVER GIVEN $10,000 CASH TIP BY PATRON WHO ORDERED WATER
"When I got home I opened mine up to put ketchup on it. There were little black specks on it but I thought they were just burnt bits from the croissant. I took a quick bite anyway because I was hungry and I needed to look after the baby. A worm fell from my lip onto the Dunkin' Donuts wrapper.
"I usually go there all the time. There has never been an issue before," Platzer said.
The chain has promised to investigate the incident but Platzer said she will never eat food from there again.
"I've never seen anything like this in my life. The bacon inside was pink and crawling with bugs, it was disgusting. It was not normal. I was terrified to touch it. I was screaming, and shouted 'what the heck!'" she said.
"I opened up the sandwich again and there were baby flies, larvae, maggots and a long worm inside. There were six or seven bugs - maybe more. How could someone not notice that? They had to open the sandwich up to put the bacon inside."
Platzer said she immediately called the health department and then tried to make herself throw up. "I was sick to think I had swallowed it."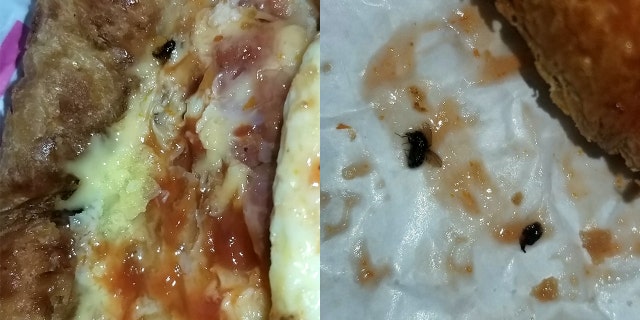 She's also concerned for her young son. "I was most worried about the baby because he had eaten his whole sandwich. He seems OK so far, but I'm going to take him to the doctor to get an anti-parasite pill just in case."
FOLLOW US ON FACEBOOK FOR MORE FOX LIFESTYLE NEWS
Platzer said the owner offered her free food and promised to investigate, though they didn't give her a refund.
Dunkin' Donuts said in a comment on Friday: "We take matters such as this very seriously. Upon learning of the complaint, we immediately dispatched a certified Operations Manager from Dunkin' to the store to confirm all food safety and quality standards are being followed. The franchisee who owns and operates the store has confirmed he has met with the guest to resolve the matter and apologize for the poor experience."