Michigan taproom owner closes shop amid accusations of being a Nazi sympathizer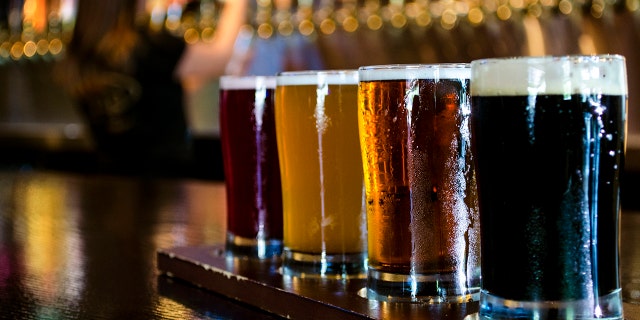 A barroom owner in Kalamazoo, Mich., has decided to close up shop after the local beer community caught wind of what appeared to be anti-Semitic photos on his Facebook page, he said.
"I had distasteful pictures up. I get it," said Aaron VanArsdale, the co-owner of Kalamazoo's Craft Draft 2 Go, in a statement to MLive. "I'm guilty … It was in bad humor. But I'm not a racist."
The photos VanArsdale is referring to were allegedly taken in 2011, though they recently resurfaced earlier this month, and then again after the Charlottesville protests. In one of the photos, VanArsdale can be seen making the Nazi salute during a tailgate party, and the other picture depicts him with a swastika Photoshopped onto his forehead.
KELSEY GRAMMER OPENING BREWERY NAMED AFTER 5-YEAR OLD DAUGHTER
In response, Facebook users have called for a boycott of VanArsdale's 10-month-old business, and he claimed he's receiving death threats over the posts. The shop's Yelp page has also been flooded with negative comments and reviews, and the storefront itself vandalized with graffiti reading "Nazi scum" and "F--- you."
VanArsdale also confirmed that his staff has quit over concerns for their own safety. The taproom has not reopened since Wednesday.
"It was in bad judgment," VanArsdale told MLive of the photos, alleging that they were supposed to be humorous. "I'm not a Nazi. I'm not a Nazi sympathizer. I'm not a white supremacist. I'm not an extremist. I'm not a fascist. I don't think violence solves anything."
VanArsdale's girlfriend, Amy Waugaman, further explained that boyfriend can simply be "unhinged" at times, as he still suffers from PTSD following his time in the Iraq war, Forbes reports.
MILLER PARK VENDOR BUYS BILLBOARD TO ENCOURAGE FANS TO BUY BEER IN-SEAT
On the other hand, multiple brewers who know VanArsdale seem to think differently. A local brewerly employee who spoke to Forbes said he had to stop talking to VanArsdale after seeing "multiple exhibitions of casual racism" on his Facebook page.
"Most of the posts I saw were about African-Americans and people of Mexican heritage," said the brewery employee, who also said VanArsdale posted sexist comments during the Women's March in January. "He tried to pass most of them off as jokes but he's actually being serious. This behavior was encouraged by Amy and a group of his Facebook friends."
VanArsdale's has since deleted his Facebook page. Craft Draft 2 Go's Facebook page also appears to have been taken down.
FOLLOW US ON FACEBOOK FOR MORE FOX LIFESTYLE NEWS
Speaking with MLive, VanArsdale too suggested that he probably won't try to reopen his business, at least not in Kalamazoo.
"I don't plan on going back into Kalamazoo," said VanArsdale. "You're run out of the city."