McDonald's debuts McDelivery clothing line featuring Big Mac onesie, fry-themed sweatsuit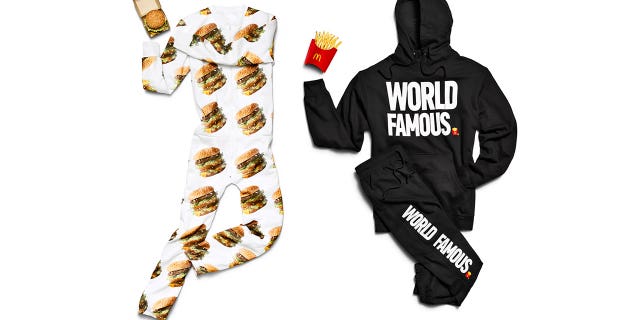 The new McDonald's McDelivery Collection might just be the next best thing to swaddling yourself in Sausage McMuffins.
In honor of its first-ever "Global McDelivery Day," McDonald's has debuted a collection of burger-themed clothing, footwear and bedding accessories, among other McDonald's-branded apparel. Per a press release, the items were designed to be "fun, fashion-forward items you can wear or use whenever and wherever you order McDelivery" via UberEATs.
MCDONALD'S INVENTS THE 'FRORK,' A FORK-FRY HYBRID UTENSIL
Offerings include a fry-themed sweatsuit printed with the words "World Famous" (along with matching sandals); a white onesie decorated with images of Big Macs; pillowcases that make it appear as if you're sleeping on fluffy, oversized burgers; and a picnic blanket emblazoned with McDonald's most popular menu items.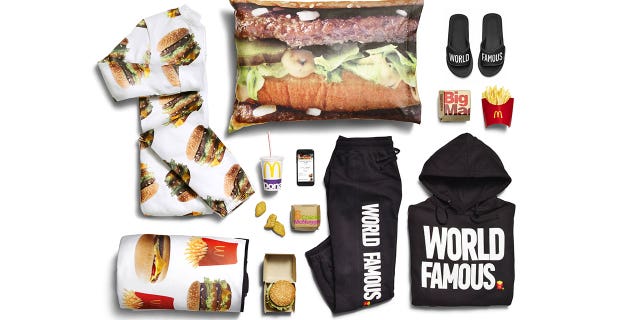 However, getting your hands on the collection isn't as easy as walking into your local Mickey D's. The McDelivery Collection is reserved only for patrons who order McDonald's deliver via UberEATS, and only at participating restaurants while supplies last.
On the flip side, the items in the McDelivery Collection will be provided to customers free of charge upon delivery. McDonald's is also planning to give away some of the items during "special deliveries and other fun McDonald's moments," although they have yet to provide further details.
McDonald's originally announced its partnership with UberEATS — Uber's food delivery service — in May, and their "McDelivery" operation has since expanded to include thousands of participating restaurants nationwide.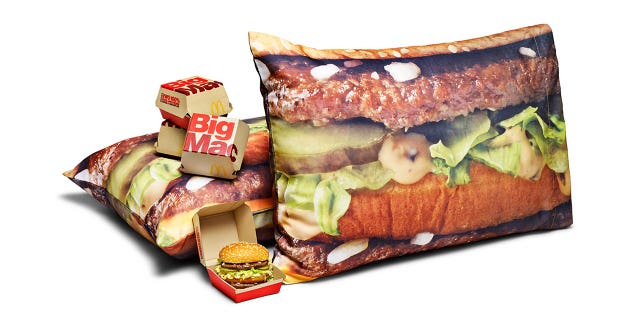 "We are bringing a new level of convenience to more of our customers as we continue to transform the McDonald's experience," said McDonald's CEO Steve Easterbrook of the service, which charges customers a premium — usually around $4 — for the privilege of delivery.
A spokesperson for McDonald's has confirmed to Fox News that a list of participating McDonald's restaurants in the U.S. and elsewhere will be revealed on the McDelivery website on June 25.