McDonald's customers suing for $5M over unwanted Quarter Pounder cheese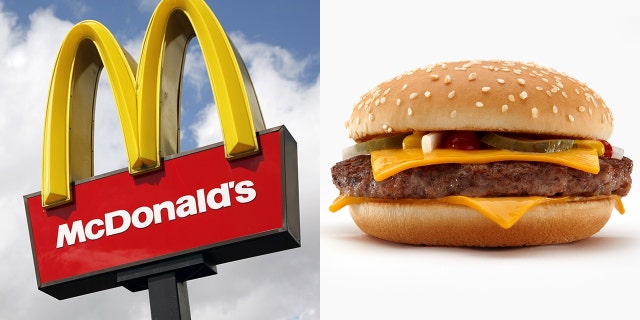 Two McDonald's customers in Florida are suing the fast-food giant for a hefty sum of $5 million because they say they're being unfairly charged for cheese they don't want on their burgers.
Cynthia Kissner and Leonard Werner argue that hamburgers and cheeseburgers are different prices on the McDonald's menu, but when they order a Quarter Pounder without the extra dairy, they're still forced to pay the same amount.
ROBERT DE NIRO SAYS TRUMP NOT WELCOME AT NOBU RESTAURANTS: 'I'D WALK OUT'
According to the lawsuit, filed May 8 in Fort Lauderdale seeking class-action status, McDonald's used to sell four different Quarter Pounder options, two of which came without cheese and cost between 30 to 90 cents less, the Miami Herald reports.
But "at some point," the lawsuit claims, the restaurant stopped "separately displaying these products for purchase on menus, and currently lists the availability of Quarter Pounder with Cheese and Double Quarter Pounder with Cheese."
Since this change, "customers have been forced, and continue to be overcharged for these products, by being forced to pay for two slices of cheese, which they do not want, order, or receive, to be able to purchase their desired product," the lawsuit claims, according to the Herald.
"McDonald's is being unjustly enriched by these practices because it receives payment for cheese it does not deliver to its customers," the lawsuit states.
The lawsuit claims the plaintiffs "have suffered injury as a result of their purchases because they were overcharged, and were required to pay for cheese, which is not a component of either a Quarter Pounder or a Double Quarter Pounder, that they did not want and did not receive," the Herald reports.
McDonald's lists the ingredients of the Quarter Pounder with Cheese on its website, which include a quarter-pound 100 percent beef patty, sesame seed bun, pasteurized process American cheese, ketchup, pickle slices and onions. It also lists nutritional info for a Quarter Pounder without Cheese, though it doesn't specify prices for the two.
FOLLOW US ON FACEBOOK FOR MORE FOX LIFESTYLE NEWS
A McDonald's spokesperson told USA Today the company does "not believe the claims in this lawsuit have legal merit. The advertised Quarter Pounder burger comes with cheese. We try to accommodate our customers' requests by allowing them to customize their orders, such as a Quarter Pounder with no cheese."
The spokesperson also noted that individual franchisees set their menu prices based on their respective markets.