Man releases giant rat inside NJ McDonald's, patrons go wild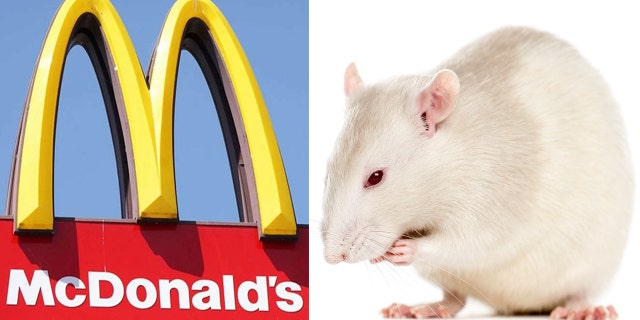 Now that's just nasty.
Police are searching for one young man who recently released a fat rat inside a New Jersey McDonald's during peak dining hours, sending customers into chaos at the fast-food chain.
On Feb. 5, the unidentified man – who was accompanied by an young boy – charged into a Newark McDonald's at 772 Broad Street with a large, white rodent inside of a plastic container, NBC New York reports. Forty seconds of video footage of the scene, which appears to have been filmed by an unknown accomplice, has since gone viral on Facebook, with over 241,000 views.
WARNING: Footage contains graphic language.
CAKE FROM TRUMP'S 2005 WEDDING SOLD TO ARTIST FAMED FOR SUBMERGING CRUCIFIX IN OWN URINE
"Let me hold it, let me hold it!" the child shouts, as he and the suspect move to the middle of the restaurant before releasing the rat on the floor. The diners instantly lose it.
"We out, we out, we out!" one customer yells as others shriek, shout and scurry to the exit doors of the Golden Arches, many eventually erupting in nervous laughter. The jokesters, too, bolt out of the chain.
The man's motivation for the vermin-centric prank remains unknown at this time.
Officials are currently searching for the male suspect. Reps for McDonald's confirmed that they are working with local police to identify the man in the video, CBS Philly reports.
FOLLOW US ON FACEBOOK FOR MORE FOX LIFESTYLE NEWS
As for the critter, shortly after the stunt came to a close, a McDonald's spokeswoman told NJ.com that "the rat exited the restaurant through the front door."
The McDonald's owner and operator, Celest Quintana, offered the following statement on the incident to CBS:
"The safety of our customers and the cleanliness of our restaurants are our top priorities. Following this incident, our restaurant staff thoroughly cleaned and sanitized the dining area and contacted the police," Quintana said. "We are currently working with local law enforcement to identify the person responsible for this deliberate act."
CLICK HERE TO GET THE FOX NEWS APP
This wouldn't be the first time a rodent has caused chaos inside the walls of a Mickey D's. Back in October, one Mickey D's in Washington state temporarily closed its doors after a video of rats scampering through the fast-food restaurant circulated on social media, news that (naturally) alarmed many local residents.