Kim, Trump feast on 9-course menu with beef short ribs, soy-braised codfish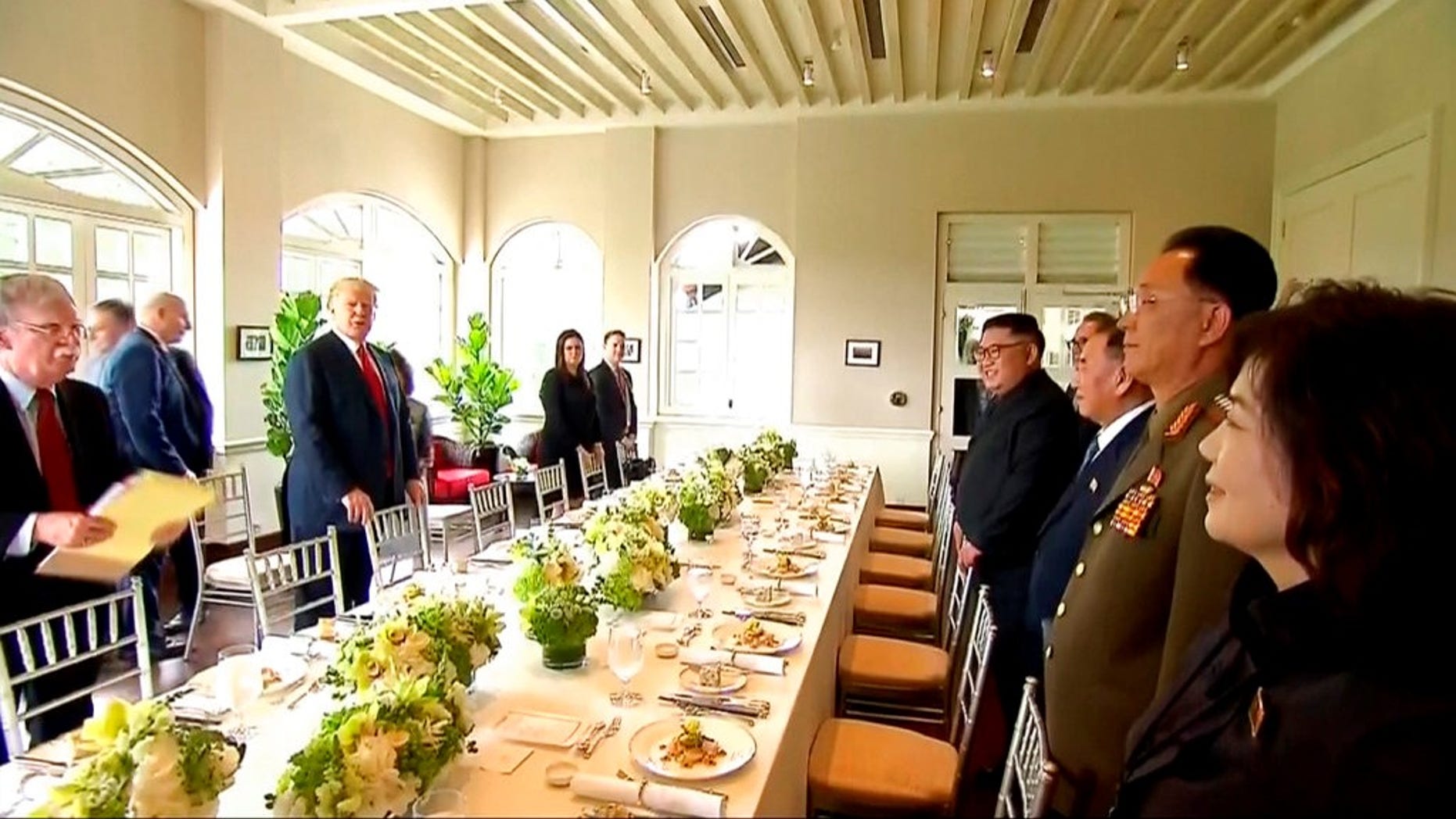 President Trump and North Korean leader Kim Jong Un feasted on a nine-course meal complete with beef short ribs and soy-braised codfish Tuesday at a working lunch during the historic summit.
The menu, released by the White House ahead of the lunch, seemed to combine Eastern and Western influences. Trump, Kim and 13 other U.S. and North Korean aides began the lunch at Singapore's Capella Hotel with traditional prawn cocktail served with avocado salad, a dish of Korean-stuffed cucumber called oiseon, and green mango kerabu salad with honey lime dressing and fresh octopus.
KIM JONG UN STEPS OUT IN SINGAPORE FOR NIGHT OUT AFTER MYSTERIOUS TRAVEL PLANS REVEALED
The main course consisted of beef short rib confit served with potato dauphinois (a creamy milk-infused potato dish originating in France) and steamed broccolini with red wine sauce on the side. There was also a dish of sweet and sour crispy pork, along with Yangzhou fried rice topped homemade XO chili sauce, and "Daegu jorim" — a soy-braised codfish with radish and Asian vegetables.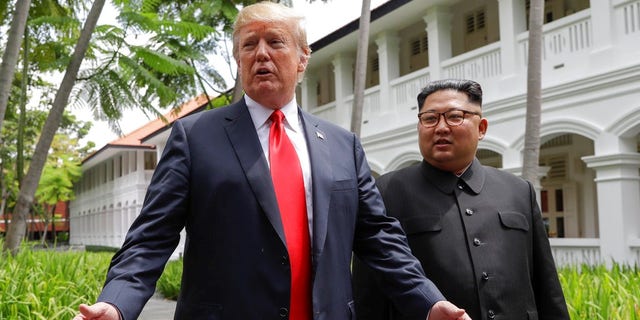 Dark chocolate tartlet ganache, Häagen-Dazs vanilla ice cream with cherry coulis and tropezienne — a brioche-based French dessert — topped off the meal.
Singaporean chef-owner Pang Kok Keong told Singapore Straits Times the menu seemed to include "French, Chinese and Korean" flavors in dishes.
Willin Low, chef at Wild Rocket, added: "[The meal was] quite a diplomatic choice of courses, with Western and Korean dishes in the first two courses so that no one would be embarrassed with food they are not comfortable with."
SINGAPORE RESTAURANTS DEBUTING TRUMP- AND KIM-THEMED FOODS AHEAD OF HISTORIC SUMMIT
Trump was joined by U.S. Secretary of State Mike Pompeo, National Security Advisor John Bolton and White House press secretary Sarah Huckabee Sanders. Kim's delegation included his sister Kim Yo Jong and North Korea's Vice Chairman Kim Yong Chol. Photographers captured them sitting down at a long table decorated with flower bouquets.
"Getting a good picture, everybody? So we look nice and handsome and thin? Perfect," Trump said before taking his seat for the working lunch Tuesday.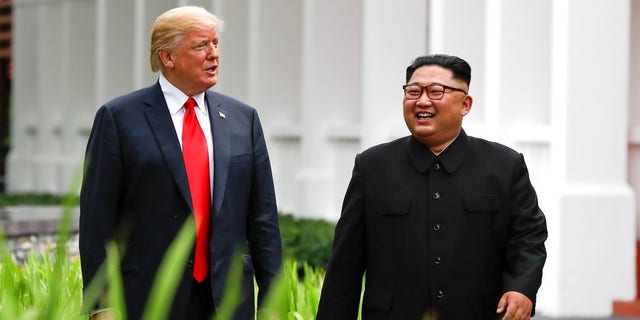 The lunch was the last official event between Trump and Kim before parting ways. The U.S. president said the summit went "better than anybody could imagine."
Fox News' Serafin Gomez and The Associated Press contributed to this report.