Kentucky Derby guests can sip this $1,000 mint julep for a good cause
Ready, set, sip.
The 144th Kentucky Derby kicks off this Saturday, and racing enthusiasts will be flocking to Churchill Downs to take in the race. And along with the big bets and even bigger hats, the classic Southern bourbon specialty, the mint julep, will be taking center stage.
The whiskey-based cocktail includes a touch of simple syrup, mint, and lots of crushed ice — and it has been a staple for Derby goers since the 1930s.
WALT DISNEY WORLD HAS A BOURBON TRAIL
"It goes back to the 1800s, with Southern farmers drinking [juleps] in the early morning … They didn't have aspirin back then [but] they had whiskey," Elizabeth McCall, assistant master distiller for Woodford Reserve, told FOX News during an interview at Ward III in New York City.
"They would have the simple syrup to soften it and mint to freshen their breath, and the whiskey, of course, helped cure all those aches and pains."
McCall explains that the mint julep eventually worked its way into the culture of horse racing, and now over 140,000 mint juleps are consumed over Derby weekend.
Since 2006, to help celebrate Woodford Reserve's partnership with the Derby, the distillery unveiled a $1,000 mint julep. Served in a pewter cup (which is best to keep your julep nice and frosty), the pricey cocktail is special for Derby goers. Fans online can reserve their chalice — or spring for a $2,500 gold plated one — to pick up and sip on the big day.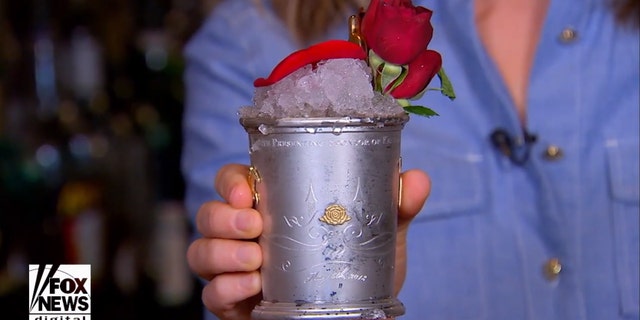 "It's not just a $1,000 mint julep cup. All the net proceeds go to a charity," explains McCall. In fact, since the start of the mint julep program, Woodford Reserve has raised over $450,000 for charity. This year's lucky recipient is the Jennifer Lawrence Art Fund, which is dedicated to supporting arts access and education throughout Greater Louisville, Ky.
FOLLOW US ON FACEBOOK FOR MORE FOX LIFESTYLE NEWS
Be sure to watch McCall's full video above and learn how to make your very own Kentucky Derby-inspired Mint Julep.