Kaepernick and Lynch jerseys used as doormats at Missouri bar, owner accused of racism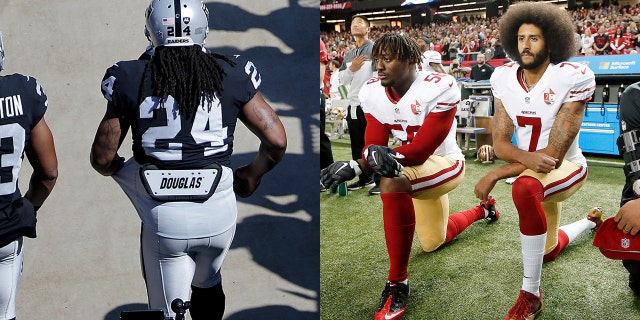 A Missouri bar is facing a wave of backlash online after using the jerseys of Colin Kaepernick and Marshawn Lynch as doormats at the business' entrance.
SNAFU Bar in Lake Ozark is being called racist after placing the two NFL jerseys in front of the establishment's doorway, in an order that reads "Lynch Kaepernick."
Jason Burle, the owner of the bar, told KOMU he didn't intentionally place the doormats on the ground in that order, but that he did decide to use the jerseys as doormats because he doesn't agree with the NFL players taking a knee during the National Anthem to protest police brutality and social injustice.
LOUISIANA BAR REFUSES TO SHOW NEW ORLEANS SAINTS GAME AFTER PROTEST
Burle told KOMU "it's not a race thing," but many people are outraged by the display, claiming the arrangement of the jerseys was in bad taste.
Taylor Sloan, who saw the jerseys outside SNAFU, complained on the bar's Facebook page about the uncomfortable word association.
The exchange between Sloan and the bar became heated, with Sloan accusing Burle of using the "faux guise" of patriotism to espouse "hate, violence and American racism." He also said he didn't believe Burle saw a problem with how the jerseys were arranged, Fox59 reports.
SPRINKLES CUPCAKES SHOWS SUPPORT FOR NFL PROTESTERS, SPARKS CONTROVERSY ON SOCIAL MEDIA
Regardless of accusations, Burle stood by the display because the NFL protests angered him. He said they're his way of standing up for himself and his family who served in the military.
"A lot of us military folks take that personal to heart," Burle said.
SNAFU was started as a way to give back to military veterans, says Burle. "We give discounts to veterans, we have a hall of heroes inside. We have flags that have flown overseas mounted inside."
After being called out by Sloan over the jersey placement, Burle sent a picture to KOMU Tuesday showing they had been switched so the Kaepernick jersey is on the left and Lynch on the right.

FOLLOW US ON FACEBOOK FOR MORE FOX LIFESTYLE NEWS
Burle recognizes the players' right to protest, but he doesn't agree with it, KOMU reports.
"I commend them for what they're doing, as far as the right goes. I fought for that right," Burle said. "The same thing that gives them that right gives me the right to place these out here."
This isn't the first time SNAFU has used a kneeling player's jersey as a doormat, either: A photo posted to SNAFU's Facebook page in September 2016 also shows a similar display, with a different Kaepernick jersey taped out front.