James Beard finalists announced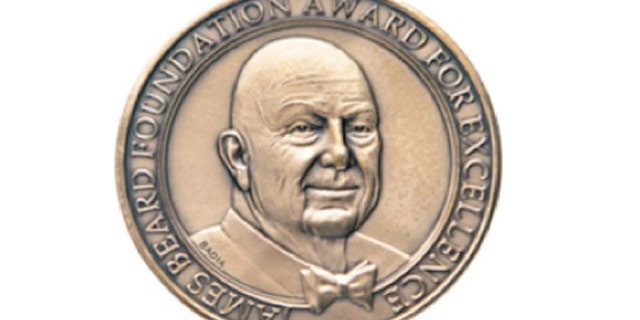 The James Beard Foundation unveiled the finalists for its chef and restaurant awards, as well as for journalism, cookbooks, television and restaurant design awards.
The Outstanding Restaurant finalists are New York City's Hearth, Highlands Bar and Grill in Birmingham, Ala., San Francisco's The Slanted Door, Spiaggia in Chicago, and wd~50 in New York City. While the finalists in the Outstanding Chef category are Michael Anthony of Gramercy Tavern in New York City, Sean Brock of McCrady's in Charleston, S.C., Suzanne Goin of Lucques in Los Angeles, David Kinch of Manresa in Los Gatos, Calif., Nancy Silverton of Los Angeles' Pizzeria Mozza, and Marc Vetri of Vetri in Philadelphia.
Here is the full list of nominees. The awards take place in New York City on the first weekend of May.
RESTAURANT AND CHEF AWARDS
Best Chef: West
Stuart Brioza and Nicole Krasinski, State Bird Provisions, San Francisco
Michael Cimarusti, Providence, Los Angeles
Corey Lee, Benu, San Francisco
Daniel Patterson, Coi, San Francisco
Jon Shook and Vinny Dotolo, Animal, Los Angeles
Best New Restaurant
Betony, NYC
Carbone, NYC
Coqueta, San Francisco
Estela, NYC
Pêche, New Orleans
Outstanding Chef
Michael Anthony, Gramercy Tavern, NYC
Sean Brock, McCrady's, Charleston, SC
Suzanne Goin, Lucques, West Hollywood, CA
David Kinch, Manresa, Los Gatos, CA
Nancy Silverton, Pizzeria Mozza, Los Angeles
Marc Vetri, Vetri, Philadelphia
Outstanding Pastry Chef
Dominique Ansel, Dominique Ansel Bakery, NYC
Dana Cree, Blackbird, Chicago
Belinda Leong, b. patisserie, San Francisco
Dahlia Narvaez, Osteria Mozza, Los Angeles
Christina Tosi, Momofuku, NYC
Outstanding Restaurant
Hearth, NYC
Highlands Bar and Grill, Birmingham, AL
The Slanted Door, San Francisco
Spiaggia, Chicago
wd~50, NYC
Rising Star Chef of the Year
Jimmy Bannos Jr., The Purple Pig, Chicago
Katie Button, Cúrate, Asheville, NC
Jessica Largey, Manresa, Los Gatos
David Posey, Blackbird, Chicago
Blaine Wetzel, The Willows Inn on Lummi Island, Lummi Island, WA
Outstanding Bar Program
Bar Agricole, San Francisco
The Bar at the NoMad Hotel, NYC
Clyde Common, Portland, OR
Maison Premiere, Brooklyn, NY
The Violet Hour, Chicago
Outstanding Restaurateur
Barbara Lynch, Barbara Lynch Gruppo, Boston (No. 9 Park, Menton, B&G Oysters, and others)
Donnie Madia, One Off Hospitality Group, Chicago (Blackbird, Avec, The Publican, and others)
Cindy Pawlcyn, Napa Valley, CA (Mustards Grill, Cindy's Back Street Kitchen, and Cindy Pawlcyn's Wood Grill & Wine Bar)
Nick Pihakis, Jim 'N Nick's Bar-B-Q, Birmingham, AL
Caroline Styne, West Hollywood, CA (Lucques, A.O.C., Tavern, and others)
Phil Suarez, Suarez Restaurant Group, NYC (ABC Kitchen, Jean-Georges, wd~50, and others)
Outstanding Service
Blue Hill, NYC
Quince, San Francisco
The Restaurant at Meadowood, St. Helena, CA
Topolobampo, Chicago
Vetri, Philadelphia
Outstanding Wine Program
A16, San Francisco
Bar Boulud, NYC
The Barn at Blackberry Farm, Walland, TN
FIG, Charleston, SC
The Little Nell, Aspen, CO
Outstanding Wine, Spirits, or Beer Professional
Sam Calagione, Dogfish Head Craft Brewery, Milton, DE
Ron Cooper, Del Maguey Single Village Mezcal, Ranchos de Taos, NM
Garrett Oliver, Brooklyn Brewery, Brooklyn, NY
Harlen Wheatley, Buffalo Trace Distillery, Frankfort, KY
David Wondrich, spirits educator, Brooklyn, NY
Best Chef: Great Lakes
Dave Beran, Next, Chicago
Curtis Duffy, Grace, Chicago
Jonathon Sawyer, The Greenhouse Tavern, Cleveland
Paul Virant, Vie Restaurant, Western Springs, IL
Andrew Zimmerman, Sepia, Chicago
Best Chef: Mid-Atlantic
Cathal Armstrong, Restaurant Eve, Alexandria, VA
Spike Gjerde, Woodberry Kitchen, Baltimore
Brad Spence, Amis, Philadelphia
Vikram Sunderam, Rasika, Washington, D.C.
Cindy Wolf, Charleston, Baltimore
Best Chef: Midwest
Justin Aprahamian, Sanford, Milwaukee
Paul Berglund, The Bachelor Farmer, Minneapolis
Gerard Craft, Niche, Clayton, MO
Michelle Gayer, Salty Tart, Minneapolis
Kevin Nashan, Sidney Street Cafe, St. Louis
Lenny Russo, Heartland Restaurant & Farm Direct Market, St. Paul, MN
Best Chef: Northeast
Jamie Bissonnette, Coppa, Boston
Joanne Chang, Flour Bakery + Cafe, Boston
Gerry Hayden, The North Fork Table & Inn, Southold, NY
Matt Jennings, Farmstead Inc., Providence, RI
Michael Leviton, Lumière, Newton, MA
Barry Maiden, Hungry Mother, Cambridge, MA
Best Chef: Northwest
Renee Erickson, The Whale Wins, Seattle
Jason Franey, Canlis, Seattle
Naomi Pomeroy, Beast, Portland, OR
Ethan Stowell, Staple & Fancy, Seattle
Cathy Whims, Nostrana, Portland, OR
Best Chef: NYC
April Bloomfield, The Spotted Pig
Dan Kluger, ABC Kitchen
Mark Ladner, Del Posto
Jonathan Waxman, Barbuto
Michael White, Marea
Best Chef: South
Vishwesh Bhatt, Snackbar, Oxford, MS
Justin Devillier, La Petite Grocery, New Orleans
Ryan Prewitt, Pêche Seafood Grill, New Orleans
Alon Shaya, Domenica, New Orleans
Sue Zemanick, Gautreau's, New Orleans
Best Chef: Southeast
Kathy Cary, Lilly's, Louisville, KY
Ashley Christensen, Poole's Downtown Diner, Raleigh, NC
Edward Lee, 610 Magnolia, Louisville, KY
Steven Satterfield, Miller Union, Atlanta
Tandy Wilson, City House, Nashville
Best Chef: Southwest
Kevin Binkley, Binkley's, Cave Creek, AZ
Bryce Gilmore, Barley Swine, Austin
Hugo Ortega, Hugo's, Houston
Chris Shepherd, Underbelly, Houston
Justin Yu, Oxheart, Houston
2014 James Beard Foundation Outstanding Restaurant Design Awards
75 Seats and Under (For the best restaurant design or renovation in North America since January 1, 2011)
Design Firm: Assimilation Design Lab LLC and Otto Architects LLC
Designers: Josh Otto and David Whipple
Project: Tria Taproom, Philadelphia
Design Firm: Huxley Wallace Collective
Designers: Joshua Henderson and Matthew Parker
Project: Westward, Seattle
Design Firm: Lawton Stanley Architects
Designers: Maria Contreras, Christopher Lawton, and Micah Stanley
Project: Grace, Chicago
76 Seats and Over (For the best restaurant design or renovation in North America since January 1, 2011)
Design Firm: Jensen ArchitectsDesigners: Scott Davis, Mark Jensen, Lincoln Lighthill, Dean Orr, and Andy PluessProject: Shed, Healdsburg, CA
Design Firm: Munge LeungDesigner: Sai Leung and Alessandro MungeProject: Hawksworth Restaurant, Vancouver
Design Firm: Slade ArchitectureDesigners: Hayes Slade and James Slade Project: Virgin Atlantic Airway's Clubhouse at Newark Liberty International Airport, Newark, NJ
***
2014 James Beard Foundation Broadcast and New Media Awards
Radio Show/Audio Webcast
Here & Now
Hosts: Meghna Chakrabarti, Jeremy Hobson, and Robin Young
Area: Public Radio
Producer: Kathy Gunst
The Splendid Table
Host: Lynne Rossetto Kasper
Area: American Public Media and Public Radio
Producers: Jennifer Russell and Sally Swift
This American Life
Host: Fred Armisen, Ben Calhoun, and Ira Glass
Area: NPR
Producer: Ben Calhoun
Special/Documentary
CBS Sunday Morning: "Eat, Drink and be Merry"
Host: Charles Osgood
Network: CBS
Producers: Gavin Boyle, Cathy Lewis, Amol Mhatre, Rand Morrison, Amy Rosner, Jason Sacca, and Robin Sanders
Eating Alabama
Network: PBS
Producers: Andrew Beck Grace and Bartley Powers
The Harvey Girls: Opportunity Bound
Network: PBS
Producer: Katrina Parks
Television Program, in Studio or Fixed Location
Heartland Table
Host: Amy Thielen
Network: Food Network
Producers: Random House Television and Tavola Production
Lidia's Kitchen
Host: Lidia Bastianich
Network: PBS
Producer: Tavola Production
Martha Stewart's Cooking School
Host: Martha Stewart
Network: PBS
Producers: Greta Anthony, Christina Deyo, Michael Morrison, Martha Stewart, Calia Van Dyk, and Lisa Wagner
Television Program, on Location
A Chef's Life
Host: Vivian Howard
Network: PBS
Producers Cynthia Hill and Markay Media
Lidia Celebrates America: Freedom and Independence
Host: Lidia Bastianich
Network: PBS
Producer: Anne Adams, Mimi Adams, Lidia Bastianich, Laurie Donnelly, Shelly Burgess Nicotra, and Rob Tate
The Mind of a Chef
Host: Anthony Bourdain
Network: PBS
Producers: Jared Adrukanis, Anthony Bourdain, Joe Caterini, Chris Collins, Michael Steed, and Lydia Tenaglia
Television Segment
American Journey
Host: Tom Foreman
Network: CNN and CNN.com
Producer: Jeremy Harlan and Sarah LeTrent
CBS Sunday Morning
Host: Martha Teichner
Network: CBS
Producer: Jon Carras and Mary Raffalli
Friday Arts, Art of Food
Network: WHYY-TV
Producer: Monica Rogozinski
Video Webcast, Fixed Location and/or Instructional
Cook Smarter
chefsteps.com
Host: Grant Lee Crilly
Producer: Kristina Krug
Thirsty For…
youtube.com/tastemade
Producer: Jay Holzer and Eric Slatikin
Upwave Eat Videos
upwave.com
Hosts: Pancho Gatchalian, Sarah Mastracco, and Jamie Tiampo
Producers: SeeFood Media, Space Station Media, and Upwave
Video Webcast, on Location
Dark Rye
darkrye.com
Producers: Clyde Burley, Ira Chute, and Kelly Le Castre
Kitchen Vignettes
kitchenvignettes.blogspot.com/PBS
Producer: Aube Giroux and Matt Schoch
The Perennial Plate: Europe and South Asia
theperennialplate.com
Hosts: Mirra Fine and Daniel Klein
Producers: Mirra Fine and Daniel Klein
Outstanding Personality/Host
Host: Ina Garten
Barefoot Contessa: Back to Basics
Network: Food Network
Host: Sara Moulton
Sara's Weeknight Meals
Network: PBS
Host: Andrea Robinson
The 30-Minute Wine Whiz
andreawine.com
***
2014 James Beard Foundation Journalism Awards
Cooking, Recipes, or Instruction
Scott Mowbray and Ann Taylor Pittman
Cooking Light
"7 Simple Ways to Become a Better Cook"
Andy Ricker
Saveur
"The Star of Siam"
Various Editors
Bon Appétit
"How to Cook Right Now"
Food and Culture
John Birdsall
Lucky Peach
"America, Your Food Is So Gay"
Lauren Collins
The New Yorker
"Fire-Eaters"
Corby Kummer
Smithsonian
"Can Starbucks Do for the Croissant What it Did for Coffee?"
Food and Travel
Greg Larson
Lucky Peach
"Traveling in the North Country"
Nick Paumgarten
Bon Appétit
"Lunch at 8,500 Ft."
Gary Shteyngart
Travel + Leisure
"Maximum Bombay"
Food Coverage in a General-Interest Publication
San Francisco Chronicle
"Food & Wine" Section
Chronicle Food & Wine Staff
The Wall Street Journal
"Off Duty" Section
Beth Kracklauer
Washingtonian
"Taste" Section
Todd Kliman and Ann Limpert
Food Politics, Policy, and the Environment
Maryn McKenna
Food & Environment Reporting Network and Medium
"Imagining the Post-Antibiotics Future"
Eli Saslow
The Washington Post
"Food Stamps"
Craig Welch
The Seattle Times
"Sea Change: The Pacific's Perilous Turn"
Food-Related Columns
Tamar Haspel
The Washington Post
Unearthed
Kristen Miglore
Food52
Genius Recipes
Adam Sachs
Bon Appétit
The Obsessivore
Group Food Blog
The Braiser
Eater National
First We Feast
Health and Well-Being
Elizabeth Gunnison Dunn
The Wall Street Journal
"This is Not a Carbonara"
Sidney Fry, MS, RD
Cooking Light
"Salt"
Rachael Moeller Gorman
EatingWell
"The Whole-Grain, Reduced-Fat, Zero-Calorie, High-Fiber, Lightly Sweetened Truth about Food Labels"
Humor
Ira Chute
Dark Rye
A Vision of Post-Apocalyptic Cuisine: Frankenchicken
Lisa Hanawalt
Lucky Peach
"On the Trail with Wylie"
Monica Hesse
The Washington Post
"Gwyneth Paltrow: We Love to Hate Her, But We'll Buy Her Cookbook Anyway"
Individual Food Blog
Food for the Thoughtless
Michael Procopio
Homesick Texan
Lisa Fain
Poor Man's Feast
Elissa Altman
Personal Essay
Fuchsia Dunlop
Lucky Peach
"Dick Soup"
Elizabeth Gilbert
Outside
"Don't Mess with Perfect"
Gabrielle Hamilton
Bon Appétit
"Guess Who's Coming to Dinner?"
Profile
Alex Halberstadt
The New York Times Magazine
"The Transformational Power of the Right Spice"
Francis Lam
Lucky Peach
"A Day on Long Island with Alex Lee"
Peter Meehan
Lucky Peach
"Life, and How It Happens to a Cook"
Visual Storytelling
Jeff Allen, Jonathan Boncek, Andrew Cebulka, Allston McCrady, and Susan Puckett
The Local Palate
"Dinin' Down in the Delta," "Ferm Belief," "Fire It Up,"
Chris Higdon, Jessie Kriech-Higdon, and Jen White
Spenser Magazine
"Controlled Burn," "Lead Us Into Temptation," "The South's Sweet Elixir"
James Maikowski, Patricia Sanchez, Stephen Scoble, and Fredika Stjärne
Food & Wine
"Best New Chef All Stars," "Oysters & Gumbo: A Chef's New Orleans Party," "Vegetables Now"
Wine, Spirits, and Other Beverages
Ray Isle
Food & Wine
"The Battle for America's Oldest Vines"
Josh Ozersky
The Wall Street Journal
"Bourbon Mania!"
Besha Rodell
Punch
"40 Ounces to Freedom"
Craig Claiborne Distinguished Restaurant Review Award
Alison Cook
Houston Chronicle
"Corkscrew BBQ a New Houston Classic," "The Cosmic Soup of Pho Hung," "The Pass Unleashes Plates of Playfulness"
Alan Richman
GQ
"Alan Richman Walks Into a Jewish Deli…," "The Elm: Is Brooklyn Ready for Sophisticated Dining?," "ZZ's, the Most Expensive 58 Minutes in New York Dining"
Besha Rodell
L.A. Weekly
"Black Hogg Down," "Outback Steakhouse Review: Please Don't Call This Food Australian," "Sqirl Review: Jessica Koslow's Tiny Restaurant Is Serving Some of the Best Food in L.A."
MFK Fisher Distinguished Writing Award
Francis Lam
Bon Appétit
"Better with Age"
Guy Martin
Garden & Gun
"A Tale of Two Kitchens"
John Jeremiah Sullivan
Lucky Peach
"I Placed a Jar in Tennessee"
***
2014 James Beard Foundation Book Awards
For books published in English in 2013.
American Cooking
I Love New York: Ingredients and Recipes
Daniel Humm and Will Guidara
(Ten Speed Press)
The New Midwestern Table: 200 Heartland Recipes
Amy Thielen
(Random House)
Pickles, Pigs & Whiskey: Recipes from My Three Favorite Food Groups and Then Some
John Currence
(Andrews McMeel Publishing)
Baking and Dessert
The Art of French Pastry
Jacquy Pfeiffer with Martha Rose Shulman
(Knopf)
Sweet
Valerie Gordon
(Artisan)
Tartine Book No. 3: Modern Ancient Classic Whole
Chad Robertson
(Chronicle Books)
Beverage
The Cocktail Lab: Unraveling the Mysteries of Flavor and Aroma in Drink, with Recipes
Tony Conigliaro
(Ten Speed Press)
The Drunken Botanist: The Plants That Create the World's Great Drinks
Amy Stewart
(Algonquin Books)
The New California Wine: A Guide to the Producers and Wines Behind a Revolution in Taste
Jon Bonne
(Ten Speed Press)
Cooking from a Professional Point of View
Historic Heston
Heston Blumenthal
(Bloomsbury)
Manresa: An Edible Reflection
David Kinch with Christine Muhlke
(Ten Speed Press)
René Redzepi: A Work in Progress
René Redzepi
(Phaidon Press)
Focus on Health
Gluten-Free Girl Every Day
Shauna James Ahern with Daniel Ahern
(Houghton Mifflin Harcourt)
VB6: Eat Vegan Before 6:00 to Lose Weight and Restore Your Health . . . for Good
Mark Bittman
(Clarkson Potter Publishers)
Weeknight Wonders: Delicious, Healthy Dinners in 30 Minutes or Less
Ellie Krieger
(Houghton Mifflin Harcourt)
General Cooking
One Good Dish
David Tanis
(Artisan)
Smoke: New Firewood Cooking
Tim Byres
(Rizzoli New York)
Try This at Home: Recipes from My Head to Your Plate
Richard Blais
(Clarkson Potter Publishers)
International
Every Grain of Rice: Simple Chinese Home Cooking
Fuchsia Dunlop
(W. W. Norton & Company)
Return to the Rivers: Recipes and Memories of the Himalayan River Valleys
Vikas Khanna with Andrew Blackmore-Dobbyn
(Lake Isle Press)
Sauces & Shapes: Pasta the Italian Way
Oretta Zanini DeVita and Maureen B. Fant
(W. W. Norton & Company)
Photography
Historic Heston
Photographer: Romas Foord
(Bloomsbury USA)
Mast Brothers Chocolate
Photographer: Tuukka Koski
(Little, Brown and Company)
René Redzepi: A Work in Progress
Ali Kurshat Altinsoy, Ditte Isager, René Redzepi, Lars Williams, and the Noma Team
(Phaidon Press)
Reference and Scholarship
A History of Food in 100 Recipes
William Sitwell
(Little, Brown and Company)
Modern Food, Moral Food: Self-Control, Science, and the Rise of Modern American Eating in the Early Twentieth Century
Helen Zoe Veit
(The University of North Carolina Press)
Soul Food: The Surprising Story of an American Cuisine One Plate at a Time
Adrian Miller
(The University of North Carolina Press)
Single Subject
Culinary Birds: The Ultimate Poultry Cookbook
John Ash with James O. Fraioli
(Running Press)
Fish: 54 Seafood Feasts
Cree LeFavour
(Chronicle Books)
In the Charcuterie: The Fatted Calf's Guide to Making Sausage, Salumi, Pâtés, Roasts, Confits, and Other Meaty Goods
Taylor Boetticher and Toponia Miller
(Ten Speed Press)
Vegetable Focused and Vegetarian
Feast: Generous Vegetarian Meals for Any Eater and Every Appetite
Sarah Copeland
(Chronicle Books)
River Cottage Veg
Hugh Fearnley-Whittingstall
(Ten Speed Press)
Vegetable Literacy
Deborah Madison
(Ten Speed Press)
Writing and Literature
A Fork in the Road: Tales of Food, Pleasure and Discovery on the Road
Edited by James Oseland
(Lonely Planet)
Provence, 1970: M. F. K. Fisher, Julia Child, James Beard, and the Reinvention of American Taste
Luke Barr
(Clarkson Potter Publishers)
Salt Sugar Fat: How the Food Giants Hooked Us
Michael Moss
(Random House)