In-N-Out suing over Australian 'Down N' Out' burger restaurants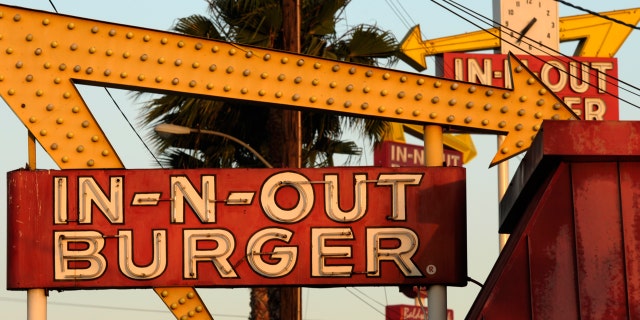 Imitation might be the most sincere form of flattery, but not if In-N-Out is has something to say about it.
The beloved burger chain has reportedly filed a lawsuit over an Australian burger restaurant called Down N' Out, claiming that the eateries are aiming to "mimic or model" themselves after the iconic California-based chain, the Sydney Morning Herald is reporting.
Hashtag Burgers — the company that owns Down N' Out — has since denied any wrongdoing, and adds that the case is without merit and "liable to be struck out."
FAST FOOD EMPLOYEE'S 'BEAUTIFUL' ACT OF KINDNESS GOES VIRAL
In-N-Out first launched court proceedings against Hashtag Burgers in October 2017, though a judge in New South Wales has recently ordered In-N-Out to file evidence to support its claim by June 1.
According to the Herald, In-N-Out originally alleged that Down N' Out infringed on the In-N-Out trademark, and further claimed that Down N' Out may have misled customers into believing In-N-Out had given its "endorsement, approval, license, authority or sponsorship" to the Aussie chain.
In-N-Out does not currently operate any restaurants in Australia, but nevertheless, the chain argues it still enjoys "substantial reputation and goodwill" Down Under, citing the fact that In-N-Out has previously operated a pop-up restaurant in Australia.
Hashtag Burgers, meanwhile, has stated that In-N-Out "does not conduct its fast-food business in Australia and therefore has no goodwill in Australia." Furthermore, Down N' Out's menu includes items not found on In-N-Out's, including chicken burgers and jalapeño poppers, according to its website and social media accounts.
The site also lists only two Down N' Out locations across New South Wales.
SEE IT: MCDONALD'S CUSTOMER DRIVES SUPER-TINY VAN THROUGH DRIVE-THRU
In-N-Out is reportedly seeking to bar Hashtag Burgers from operating restaurants under the Down N' Out name, and to fork over all profits obtained by said restaurants.
Both parties have already participated in court-mandated mediation sessions, the Herald reported. The judge overseeing the case has also given Hashtag Burgers until July 27 to respond to evidence put forth by In-N-Out.
A primary hearing is set for August 10.
FOLLOW US ON FACEBOOK FOR MORE FOX LIFESTYLE NEWS
Down N' Out isn't the first burger chain In-N-Out has had a beef with in recent months; the chain also filed a trademark infringement lawsuit against Smashburger, specifically over Smashburger's new "Triple Double" burger, which In-N-Out feels is "likely to confuse and mislead the consuming public" into believing that In-N-Out has approved or licensed the sandwiches.