Hershey's rolling out new, crunchy cookie layer bars
If you love crunchy cookies, smooth chocolate and a variety of candies-- and, really, who doesn't?-- Hershey's has a new snack they say combines the best of all dessert and snacking worlds.
Later this year, the chocolate manufacturer is set to release three different versions of its new Cookie Layer Crunch Bar.
The vanilla flavor features a mixture of chocolate cookie bits, a vanilla cream-frosting and a milk chocolate coating. The mint version has layers of chocolate cookie bits, mint cream filling and a dark chocolate coating while the caramel option combines shortbread cookie bits and sticky caramel in milk chocolate.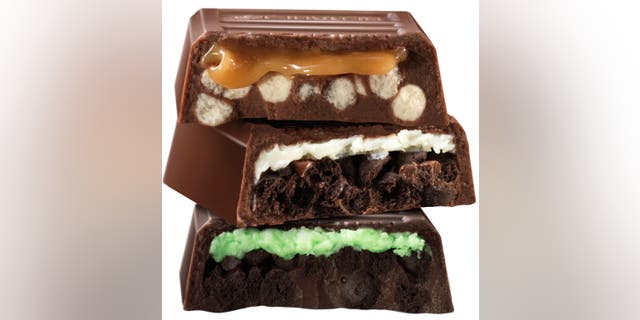 IS THE WORLD RUNNING OUT OF CHOCOLATE? 
The snacks also come in sizes of various portability: a two-piece bar, a king size with three pieces, an extra-large bar featuring five pieces and a nine-piece bag of individually wrapped bars.
Not to be outdone with news of new snacks, M&Ms announced its new flavor of Caramel M&M's last month. The candy, which is expected to mark the biggest product launch in the company's history, is described as having a "creamy caramel center covered in delicious milk chocolate, enclosed in a colorful candy shell."
Neither snack is available to the public yet but FoxNews.com's Chew on This got our hands on some Cookie Layer Crunch bars.
"This is basically like a Twix," said one customer of the caramel version. "Twix is better."
ELECTRIC SPOON COULD MAKE VEGGIES TASTE LIKE CHOCOLATE
"I love Hershey's Cookies'n'Creme--that bar-- so I love this," said another of the vanilla cookie bar.
By far, the most popular iteration was the mint cookie bar which was praised for its texture and touted as "refreshing" and "not overly sweet."
Cookie Layer Crunch Bars will roll out nationwide Dec. 4 (which just happens to be National Cookie Day), while the new Caramel M&Ms won't be released until May 2017.