Go for the food: Food trucks hit Phoenix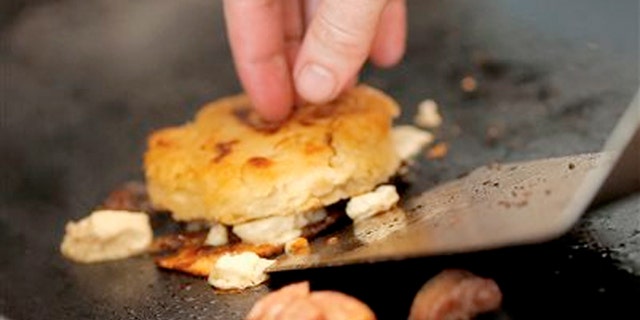 When Twitter and Facebook first began to catch fire, so did food trucks. Mobile kitchens in cities like Los Angeles and New York branded themselves, using social media to gain foodie followers. But the gourmet meals-on-wheels trend was slow to hit Phoenix streets.
Fast forward to 2013 and nearly 60 food trucks belong to the Phoenix Street Food Coalition. Now, some of the city's food truck operators are trading car keys for tables and chairs. Several brick-and-mortar incarnations have emerged in the past nine months in the desert city's artsy Roosevelt Row neighborhood. The location stands in contrast to the many popular restaurants scattered across the city and its suburbs, tucked inside strip malls. Besides having built-in street cred, these food-truck-spawned establishments have become great advocates for showcasing locally-grown and purchased food through innovative street eats.
Leading the culinary charge is the Welcome Diner. Chef Michael Babcock and his business partner, Jenn Robinson, were brought in by Phoenix developer Sloane McFarland to revive the long-dormant nine-seat diner. A fixture on historic Route 66 in the 1960s, the roadside Valentine-style diner (a type of diner built like a small box) has anchored a residential block of Roosevelt Street since 1979.
Babcock, who has worked in the kitchens of several local restaurants, started a food truck last year that peddled Southern biscuit sandwiches. But after five months, Babcock, who calls food truck owners "the hardest working people I've ever seen," found the pace wasn't for him.
Since opening Welcome Diner Feb. 1, Babcock has found a happy restaurant rhythm. The menu offers hamburgers, sandwiches and other entrees with Southern, Cajun and Southwest influences. But Babcock also takes pride in using regional ingredients like chorizo (spicy Mexican sausage) and green chiles. He also has a relationship with local farms and a nearby community garden.
It's open until midnight, but go for brunch and see if your eyes don't widen in awe at the "holy Puerco." The crisp cheddar grit cake piled with Carolina pulled pork, a fried egg and hog jowl cracklins is a pile of tender, melt-in-your-mouth goodness. The biscuit sandwich with a fried chicken breast, local honey and pickles is also worth tasting. And whether or not you are a vegetarian, you will wolf down the vegan po'boy — fried avocado and kale dressed in a spicy chipotle remoulade on French bread. Babcock also surprises with new weekly specials, such as chorizo meatloaf.
You'll feel like just another Phoenician sitting at one of several wooden tables on the patio out front. Many locals come by to get beer or wine and flee the downtown bustle just a few blocks away. With its close proximity to a hostel, you could easily find yourself chatting with a visitor from abroad. As for Babcock's old food truck? It's now retired out back and serves as the prep kitchen.
Another food truck that channeled its fan-base into a locavore restaurant lies less than a mile away. Open since July 23 (National Hot Dog Day), Short Leash Hot Dogs' Sit.Stay restaurant is a spin-off from the food truck Brad and Kat Moore started in 2010. The Moores, however, still have two mobile trucks in circulation.
Their hot dogs have gotten raves for using soft naan instead of buns and for coming up with all sorts of topping combinations, named after canines they love. Try the sweet and savory "Bear," which is your choice of locally-made sausage or hot dog (chicken, beef, pork or vegan) with peanut butter, smoked Gouda, bacon, barbecue sauce and cracker jacks. The sit-down space has munchies you can't always get from the trucks. The spice is nice in the "crispy dog," jalapeno and cheddar-stuffed wieners rolled up in corn tortillas, then deep-fried. It's perfectly complemented by an avocado cream sauce.
If you have any room left at Short Leash, pack a piece from Mamma Toledo's The Pie Hole. Short Leash invited Mamma Toledo's, the city's first all-pie food truck, to have its own counter space. Walk-ins for pie are welcome. Expect the usual standards like Key lime and banana cream and seasonal options like sweet potato with a pecan crust.
This past September, the popular 2-year-old Pizza People food truck expanded with the Pizza People Pub. Just outside Roosevelt Row and right by a light rail stop, the new restaurant has gotten the thumbs-up for hand-tossed regular and gluten-free crust. The range of pizza toppings includes the expected (pepperoni) and the non-traditional (kimchee).