Girl Scout leader on the lam after stealing $15,000 worth of cookies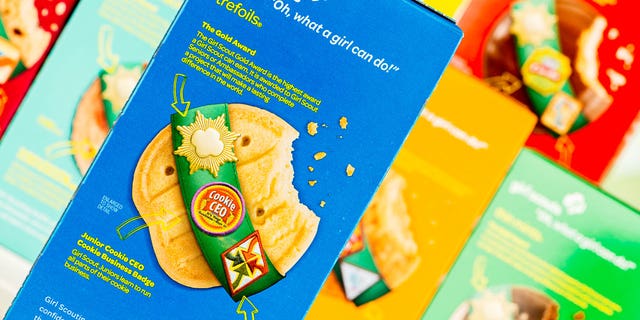 And you thought you loved Thin Mints and Samoas.
A Girl Scout leader from Kentucky has gone on the run after allegedly stealing more than $15,000 worth of cookies from not only her own troop, but maybe neighboring troops as well, reports the Appalachian News-Express.
Leah Ann Vick, of Auxier, Ky., was formally indicted by a Pike County jury on a charge of "felony theft by unlawful taking," and faces up to 10 years in prison if convicted, according to district attorney Rick Bartley.
Authorities are currently looking for Vick, 26, who they believe to be actively evading law enforcement.
SURVEY FINDS MOST POPULAR GIRL SCOUT COOKIES IN EVERY STATE
The crime originally occurred on Feb. 1, per the indictment. According to the Bartley, Vick picked up a large order of cookies for her Wilderness Road chapter — and perhaps a few orders belonging to other troops — in Pikesville, Ky.
Vick was then supposed to return to pay for the cookies once they had been sold (the local troops don't normally provide payment up front), but she never went back. The Girl Scouts also say they have no record of Vick dropping off her troop's shipment with her girls.
"She picked up the cookies and never took them to them, so we don't know what she did with them," said Bartley.
"She has never paid for any of them and, anyone who has tried to contact her about them has not been able to contact her," he added.
FOLLOW US ON FACEBOOK FOR MORE FOX LIFESTYLE NEWS
Authorities also confirmed that Vick has been using "several different addresses" in eastern Kentucky since going on the lam, making it that much harder for law enforcement to track her down.
"It looks like she picked up the cookies and, now, she and the cookies have disappeared," stated Bartley.
Vick's indictment follows a similar, though more disturbing incidence of theft from a Girl Scout in California. On Feb. 17, a 12-year-old scout in Union, Calif., was robbed at gunpoint while selling cookies outside a Safeway supermarket alongside her mother. The Union City Police Department later raised $1,000 for the girl's local troop.