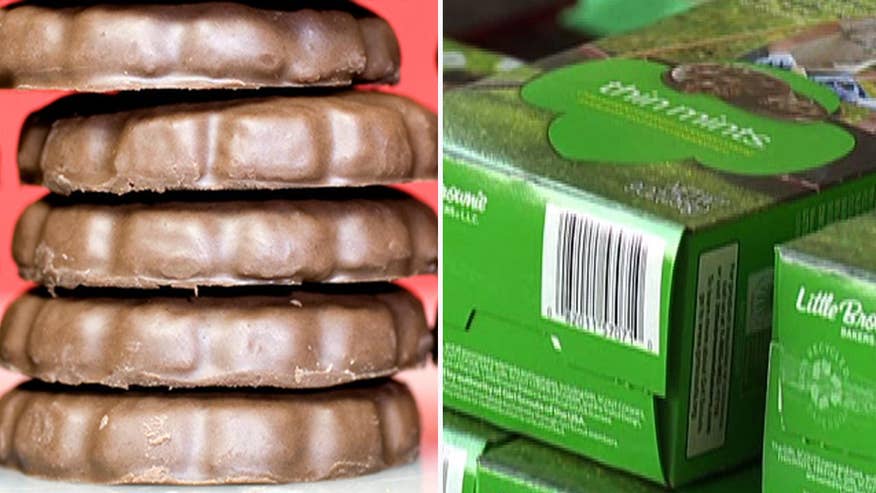 After a recent spate of Girl Scout robberies, one California trooper has a happy ending to her ordeal.
Harshita Phardwaj, a 12-year-old scout from Union, Calif. was selling cookies at a booth outside of a Safeway grocery store when she was robbed at gunpoint on Feb. 8.
After the incident, Phardwaj's chapter was reportedly very shaken.
"They are very emotional," Heather Berlew-Hayden of the Girl Scouts of Northern California told KGO. "Very concerned about the safety of other people doing this."
A NEW TYPE OF GIRL SCOUT COOKIE IS FINALLY HERE
The teenage suspect allegedly approached the young cookier seller and her mother, who was watching her, and asked about buying cookies before leaving. A short time later, he returned, brandishing a handgun and demanded cash from the scout's mother before fleeing the scene, according to Union City Patch.
Phardwaj and her mother went unharmed but the thief made off with all the money the scout had earned that night.
Girl Scout robbed at gunpoint, police say https://t.co/XMPl1WVmZx pic.twitter.com/ExjjZ3qtlr

— FOX 32 News (@fox32news) February 11, 2017
While investigating the incident, the Union City police department decided to do more than just seek out the suspect. They decided to cover the lost funds by donating money and buying Phardwaj's remaining cookie supply. In all, the police raised about $1,000 for the local troop.
"At that time, we did what we could to make it, loving and compassionate and healing," said Union City officer Lisa Gratez.
FOR THE LATEST FOOD FEATURES FOLLOW FOX LIFESTYLE ON FACEBOOK
With Girl Scouts out in full force, there was yet another robbery this week.
On Wednesday, three thieves stole $200 worth of Girl Scout cookie sales outside a King Soopers store in Denver, according to ABC 7 Denver.
The store has since announced that they will be reimbursing the local troop for the stolen cookie funds.
Burlew-Hayden is advising scouts across the country to remain vigilant while selling cookies.