Fried chicken-loving thief arrested after returning to scene of crime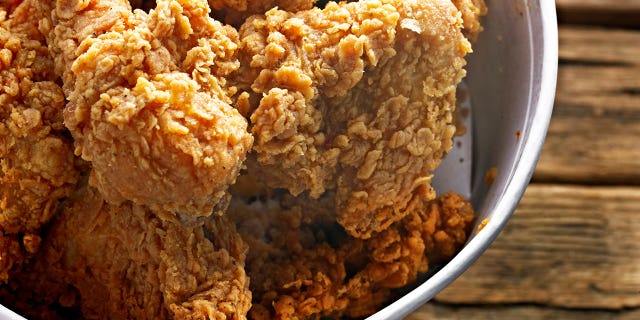 A man believed to have robbed a New York City fried chicken restaurant in July was arrested on Thursday after returning to the scene of the crime for second helpings, police say.
Christopher Schlosser, 21, has been charged with robbery stemming from an incident that took place on July 27, when he allegedly stormed into a Texas Chicken and Burger location in the Bronx to steal fried chicken and biscuits from behind the counter.
CALIF. RESTAURANT 'PROUDLY' SERVING POPEYES CHICKEN AS ITS OWN
As seen in surveillance footage from inside the restaurant, the suspect's face was only partially obscured during the robbery. So upon re-entering the eatery on Thursday, an employee was able to identify Schlosser as the same man from the incident.
"He thought we didn't know him," said Texas Chicken employee Abdul Mustawu to the New York Daily News. "I told my manager, 'This guy punched me and took my chicken and my biscuits. I know him. Call the police."
Police arrived shortly afterward to arrest Schlosser, The New York Post adds.
Oddly enough, this very same Texas Chicken and Burger location was the target of a similar robbery on Wednesday night, when a young couple jumped over the counter to physically assault a 22-year-old employee and steal about $15 worth of food, PIX 11 reports.
SUSPECTED BURGLAR GETS STUCK IN FRIED CHICKEN RESTAURANT FOR 7 HOURS
Police are encouraging anyone with information into the latest robbery to contact Crime Stoppers at 1-800-577-TIPS (8477).