Florida bar gets robbed as patrons continue to drink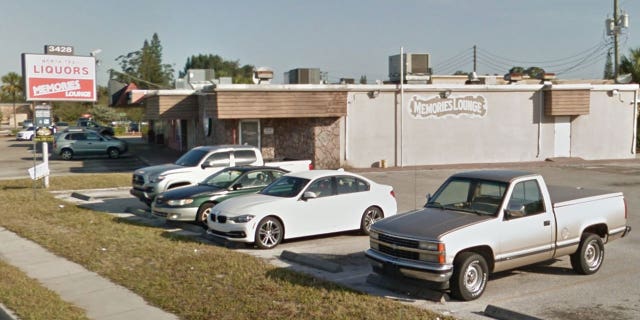 You know you're at a hopping bar when a couple of armed gunmen rob the place and nobody really notices.
Two alleged robbers stormed into the Memories Lounge in Sarasota, Florida early Sunday morning and made off with cash and booze — all while several patrons remained seated at the bar, sipping their cocktails and chatting away.
I CAN'T WATCH: BAR OFFERS FREE SHOTS TO PARTICIPANTS OF EXTREME KNIFE GAME
In surveillance footage released earlier this week by the Sarasota Police Department, the thieves can be seen running through the bar's parking area with guns. Police say one carried a rifle, the other a shotgun.
Once inside, one of the suspects steps behind the bar and begins interacting with a bartender, who puts his hands in the air and escorts the gunman over to the owner.
"One of the bartenders came up to me and said, 'We're being robbed. Don't do anything, just give them the money from the register,'" Stephen Acker, the owner of Memories Lounge, told WFLA News.
Once the register was emptied, the suspect is seen hurrying out of the bar and fleeing back through the parking lot with his accomplice — but not before grabbing two bottles of liquor.
"He got a Courvoisier and a B&B," said Acker, added to WFLA that the robbery happened so quickly, he "didn't have time to panic."
Acker wasn't the only one. Judging by the footage — which has steadily been gaining traction since it was posted by the SPD on Monday — most of the bar's patrons didn't seem to realize what was happening, either. Only a handful of people actually backed away from the bar while the crime was taking place, and several others can be seen engaging in conversation or nursing their drinks.
FOLLOW US ON FACEBOOK FOR MORE FOX LIFESTYLE NEWS
"There were people asking for drinks whilst it was going on," claimed Acker.
Police are now asking for help identifying the suspects, whose faces can be seen in the surveillance footage. Anyone with information is also urged to contact the Sarasota Police Department at 941-780-2646 or leave an anonymous tip with Sarasota Crime Stoppers at 941-366-TIPS.