Dunking Buddy makes dunking cookies easy and mess free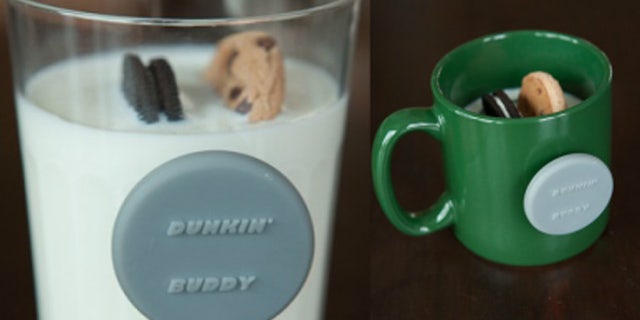 The heavenly experience of eating cookies and milk is about to get even better.
Perhaps you've faced the age-old problem of an aching hand while waiting for a cookie to soften in a glass of ice cold milk? What about those unsightly milk covered fingers that come along with trying to retrieve a sunken treat?
These snacking disasters may finally be solved with a revolutionary new device by inventors Jason Wells and Kiana Machnicz.
Enter the Dunkin Buddy—a mini apparatus that allows snack lovers to submerge any cookie of choice-- completely hands free. The secret is the design, which is essentially a cup within a cup. The smaller cup holds the cookie and a magnet attached to the outside holds and controls how far the cookie is lowered in the user's drink.
"We came up with the idea this past October when we were dunking Oreo cookies while watching TV one night," Wells told ABC News. "The next day we started making clay prototypes and then a few weeks later had a couple different 3D printed prototypes made."
Unfortunately, it looks like the public might not be as enthusiastic about the small device. The invention is currently in its prototype phase, having failed to secure the necessary $10,000 from its first Kickstarter campaign. No word yet on how the inventors plan to proceed with production
And do the inventors have any dunking advice?
"We both like to dunk chocolate chip cookies and Oreo cookies for about 20 to 30 seconds to where they are soft to eat, but not so soft you can't pick them up without them falling apart in your hand," said Wells. "But Nutter Butter cookies can take well beyond that to soften."
With new the Chocolate Chip Cookie Milk shot that recently debuted at SXSW, it looks like this classic combo is reclaiming its sweet spotlight.