Diner at Grand Central Oyster Bar finds 'extremely rare' pearl worth thousands in his lunch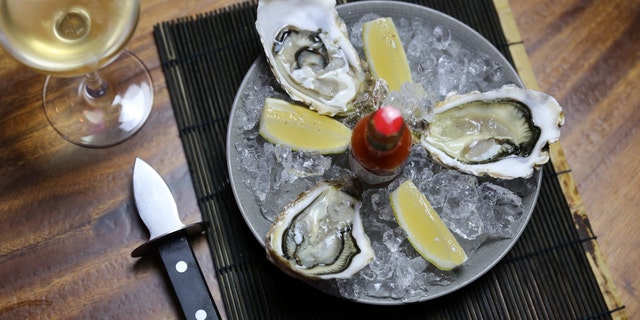 A New Jersey man's lunch paid for itself — and then some — after he bit into a pearl while dining at the Grand Central Oyster Bar inside NYC's Grand Central Terminal.
"I just all of a sudden felt something like a tooth or a filling and it's terrifying," Rick Antosh, of Edgewater, N.J. told WPIX. "And then holy crap, I realized it's not a tooth, it's a pearl."
PICS: ENGLISH PUB OFFERS 31-POUND CHRISTMAS DINNER 'CHALLENGE'
Antosh, 66, was dining at the famed Grand Central Oyster Bar with an old friend in early December when he took the miraculous bite into his pan roast and felt the pearl inside his mouth.
According to The New York Post, Antosh pocketed the pearl, thinking that such an occurrence couldn't be that uncommon for an oyster bar such as the Grand Central Oyster Bar, which originally opened its doors in 1913.
Curiosity eventually got the better of Antosh, and he called the restaurant after getting home to find out just how often this happens, only for the floor manager to tell him he's "never heard" of it even happening once, WPIX reported.
OAT MILK SHORTAGE PROMPTS SELLERS TO CHARGE OVER $200 ON AMAZON
Executive chef Sandy Ingber, however, gave the Post a different story: It's happened at least once, but it's "extremely rare."
"I've been here 28 years," said Ingber, "This is only the second time I've seen this happen. And we sell over 5,000 oysters on the half shell every day."
The Post also reached out to a pearl dealer, who estimated Antosh's find to be worth between $2,000 and $4,000 dollars.
Antosh, meanwhile, hasn't decided what he'll be doing with the pearl, but claims he'll be trying his luck again at the Grand Central Oyster Bar in the near future.
FOLLOW US ON FACEBOOK FOR MORE FOX LIFESTYLE NEWS
"You never know," he told the Post.