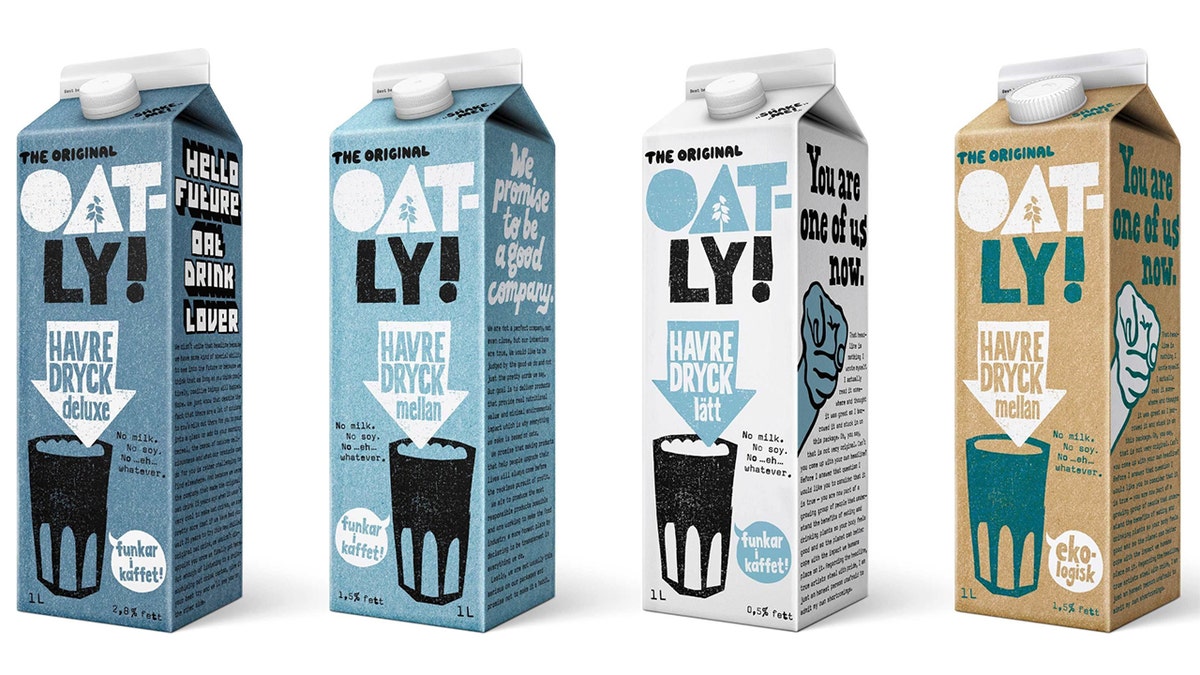 This is oat-rageous.
The great oat milk shortage of 2018 is leading some sellers on Amazon to take advantage by increasing the prices on the beloved vegan beverage to well over $200 for a case of 12 — nearly five times the typical retail price.
The alternative milk, specifically Swedish brand Oatly, which invented the beverage, began experiencing a wave of popularity in the United States around 2016 and has cultivated a cult following among hipsters, vegans and lactose-intolerants alike, winning praise for its creamy texture and neutral taste. Oat milk was also lauded as being better for the environment than other nondairy milks.
VICTORIA'S SECRET MODEL TROLLS IN-N-OUT BURGER WITH WORKOUT VIDEOS, GETS ACCUSED OF 'FAT SHAMING'
The vegan go-to later suffered from a shortage due to high demand and Oatly's inability to keep up with it — the company notes the multi-stepped process, which involves soaking and using enzymes to break down the oats before milling and heating to produce a smooth milk-like liquid.
Those online have since shared their distress over the lack of oat milk.
Though many oat milk converts are lamenting the loss of Oatly, it seems that the $20 per 32 oz. case price tag isn't luring many buyers.
ENGLISH PUB OFFERS 31-POUND CHRISTMAS DINNER CHALLENGE: 'I DON'T EXPECT ANYONE TO FINISH IT'
"I know there's a lot of stupid s--- happening all the time, but it's insane to me that there's an actual oat milk shortage causing prices like this," Matthew D'Ambrosio tweeted out.
Unfortunately, the "survivors" of the 2018 oat milk shortage shouldn't get their hopes up, as periodic shortages will likely continue to happen.
Mike Messersmith, the general manager of Oatly, acknowledged to the New Yorker that with this product, there are bound to be shortages.
"There's a tension between speed and quality here," he said in August. "We can't just go to a manufacturer and say, 'Here's a bucket of oats, go and make oat milk!' This was all too much and too soon."
FOLLOW US ON FACEBOOK FOR MORE FOX LIFESTYLE NEWS
Guess it's back to almonds for now.