Craft-Beer Pairings for Five of Your Favorite Halloween Candies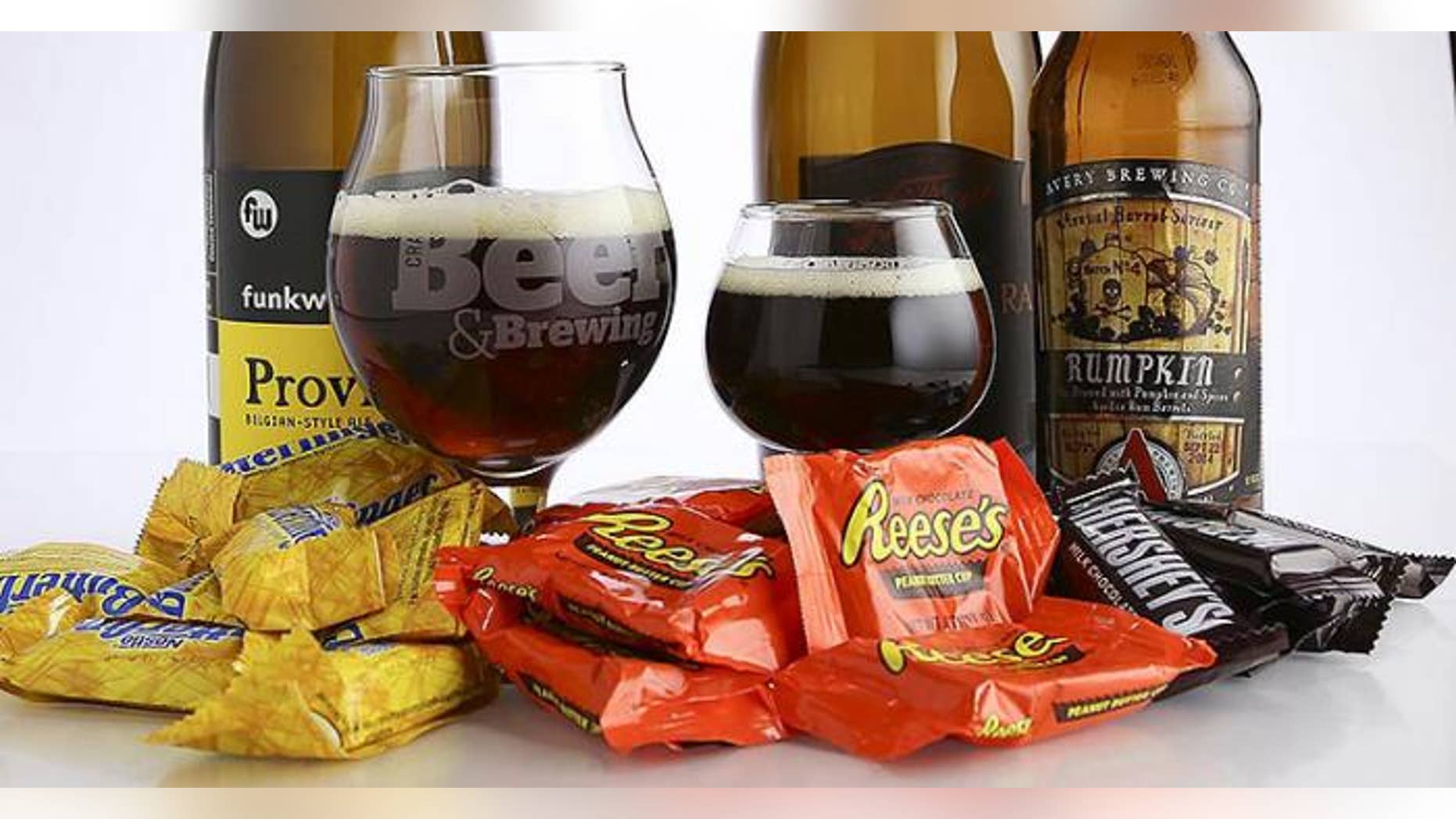 The following article comes courtesy of Craft Beer and Brewing magazine, the beer-lover's top source for brewing tips, beer news and beer gear. 
Trick-or-treating is about to take on a whole new meaning for grown-ups. We present the Craft Beer and Brewing's candy and craft-beer pairings for Halloween:
Hershey's Milk Chocolate Bars + Milk Stout
Pair milk chocolate Hershey's bars with a smooth, full-bodied milk stout. The added lactose in the beer will enhance the creaminess of the chocolate. Try these milk stouts for starters:
Tallgrass Brewing Company (Manhattan, Kansas) Buffalo Sweat Oatmeal Cream Stout
Left Hand Brewing Company (Longmont, Colorado) Milk Stout
Great Basin Brewing Company (Reno, Nevada) Outlaw Milk Stout
Portsmouth Brewery (Portsmouth, New Hampshire) Milk Stout
Hershey's Dark Chocolate Kisses + Raspberry Ale
Try Hershey's Dark Chocolate Kisses with the crispness and the tartness of a Belgian-style ale with raspberries or a raspberry wheat ale.
Funkwerks (Fort Collins, Colorado) Belgian-Style Raspberry Provincial Ale
New Glarus Brewing Co. (New Glarus, Wisconsin) Raspberry Tart
Mad Anthony Brewing Co. (Fort Wayne, Indiana) Ruby Raspberry Wheat
Breakwater Brewing Co. (Oceanside, California) Raspberry Creek
Butterfinger Bars + Bock
A traditional German-style bock is a lot like this popular candy bar: dark in color, with sweet caramel aromas and rich, roasty malt flavors. Try these beers with Butterfingers:
Tröegs Brewing Co. (Hershey, Pennsylvania) Troegenator
Heater Allen Brewing (McMinnville, Oregon) Hugo Bock
Samuel Adams (Boston, Massachusetts) Double Bock
Great Dane Pub & Brewing Co. (Madison, Wisconsin) Uber Bock
Hot Tamales + IPA
Have some hops to cut the heat in these sweet, spicy candies. Go for an IPA that's more on the floral side (as opposed to the piney or citrusy side).
Odell Brewing Co. (Fort Collins, Colorado) Perle White IPA
Deschutes Brewery (Bend, Oregon) Chainbreaker White IPA
Marin Brewing Company (Larkspur, California) Three Flowers IPA
La Cumbre Brewing Co. (Albuquerque, New Mexico) Elevated IPA
Candy Corn + Light Lager
Tame the intensity of the sugar of candy corn with a smooth, dry-finishing lager that will also bring out the candy's caramel flavors.
Lakefront Brewery (Milwaukee, Wisconsin) Pumpkin Lager
Uinta Brewing (Salt Lake City, Utah) 801 Pilsner
Sun King Brewing (Indianapolis, Indiana) Popcorn Pilsner
Boulevard Brewing (Kansas City, Missouri) Reverb Imperial Pilsner