'Chicken Soup for the Soul' to jump from books to bowls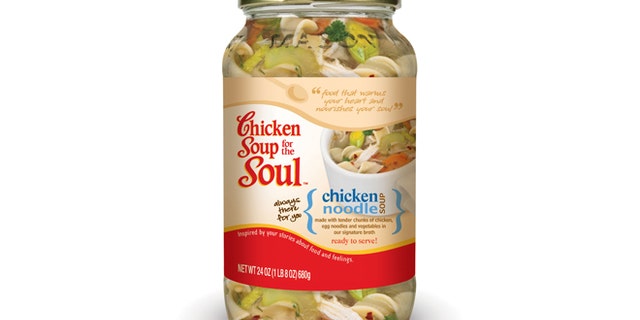 The inspiring stories in the "Chicken Soup for the Soul" books have warmed the hearts of readers around the world. Soon, the book's publisher will also be responsible for nourishing bodies.

Chicken Soup for the Soul Publishing and Daymon Worldwide are teaming up to launch a line of comfort foods, including--what else--chicken soup.

The first line of comfort foods, which will consist of seven different kinds of soup, is schedule to launch in early 2013, the company said in a press release. In addition to chicken noodle, the line will include favorites like creamy tomato and mushroom barley, and cobinations such as Country Style Squash and Sweet Corn and Chipotle, and Hearty Black Bean. The initial soups will be available in 15 oz and 24 oz reusable and recyclable traditional glass mason jars.

"Meal times play such an important role in living a well-balanced life that our readers and fans have asked us for years to launch a food line," said Chicken Soup for the Soul CEO Bill Rouhana.

The line will expand in 2013 and 2014, and eventually contain more than 100 products, including gravies and meal starters.