Mrs. Sunday's Soup Recipes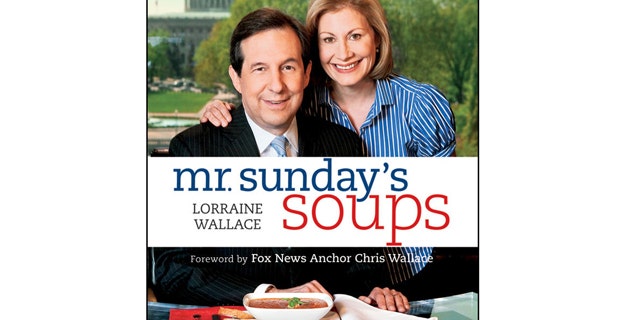 Tune in, turn off, soup's on. That's "Fox News Sunday" host, Chris Wallace's post-broadcast weekly routine after he grills the nation's lawmakers and leading pundits. Soup, says Lorraine Wallace, became the only way she could "unplug" her 24/7 newsman husband and simultaneously get the attention of her then sports-obsessed, six-foot-four-inch teen son, Remick. "Mr. Sunday's Soups," part cookbook, part family album, is about how soup brought together a blended family, nourishing them in every sense of the word. "Lorraine's soups," writes Chris in the foreward to the book, simply "speak to my soul."
After Sunday's broadcast, Chris enjoys a bowl of soup with Lorraine then settles upstairs in his favorite chair with their Lab, Winston at his feet. He reads the papers until they both fall both asleep. Chris Wallace "un-plugged" lasts only for a day. By Tuesday morning he's running full-bore again.
Lorraine adds complexity to his favorite, lentil soup, with half a teaspoon of curry and a slice of fresh lemon. Her Minted Sweet Pea and Spinach Soup is perfect for spring; porcini, morels, cremini mushrooms and tawny port give depth to Creamy Mushroom; and meaty Ancho Pork and Hominy is a great alternative to chili. Chicken Soup and Herb Dumplings is perfect for Saturday nights (out of both superstition and habit she says that Chris eats only chicken on Saturday nights.) When you make Vineyard Clam Chowder, remember to toss out the water you soak the clams in or your soup will feel like a sandbar, as Lorraine's did once.
Wallace learned about hearty, healthy foods from her mother who grew up in Norwich, England and is the kind of culinary savant who can recreate anything she tastes in a restaurant. Her expertise came from the daily trial-and-error of cooking for six kids day in and day out and wanting them to eat well.
Lorraine's Old-Fashioned Tomato Soup with Maple-Candied Bacon reminds her of the soup her mother would make when she was sick. Hers is a bisque that she serves with bacon that's been dusted and baked with maple sugar. "I try to make soups a little bit different, a little unexpected," she says of Carrot Soup with Sage and Popcorn, finished with brown butter, fried sage leaves and freshly popped corn. "Even if all your kids eat is the popcorn, it's still going to have carrot on it and they're still getting some beta-carotene," she says.
Lorraine was an avid vegetable and flower gardener, equestrienne and mother of two when she met Chris, himself a father of four. Mornings meant getting everyone off to three different schools, one an hour away. Afternoons and weekends were about soccer, T-ball, cross-country, Little League, Friday night dances, practice and games, birthday parties and fall, winter and spring concerts and plays, one for each child, at each school, every season. "You didn't have help in those days," she laughs. You get the sense that she misses getting up at seven and going until ten every night, prepping and cooking dinner between 10:30AM and 2:30PM everyday. Obviously stews, soups and braised meats worked best. "Meals brought our family together," she says.
Lorraine and Chris are now empty nesters but she ramps up for visits from the kids who still want their favorites, and grand children who will discover their own. "Buffalo" Chili," buffalo-wing flavored turkey chili, is still Remick's favorite. Lorraine serves it with carrot and celery sticks and bowls of shredded cheddar and crumbled blue cheese. Remick once handed his busy mom a bag of carrots, asking if she could carve them into spoons rather than just serving, you know, carrot sticks. That Remick, now in college, survived that day is testament to a mother's love.
Italian Wedding Soup reminds her of the day that Chris finally got a table at Rao's, the legendary New York City eatery where every table is "owned" by specific patrons on specific days and reservations don't exist. "Every time we'd drive into New York from the airport Chris would point and say, 'That's Rao's!' Every time," she laughs. When a friend loaned Chris his table one night, he invited his father, Mike Wallace, who had just announced his retirement from 60 Minutes.
Chris' daughter, Catherine, and Lorraine's daughter, Sarah, grew up as both sisters and best friends. "They were thick as thieves and ruled the house," says Lorraine. Both loved French Onion Soup, especially picking off the cheese from each other's bowl. Lorraine's substitutes chicken broth for the traditional beef broth to cut the richness.
Before she began promoting this book Lorraine had never been on TV and initially found it so nerve-wracking that she'd break out in hives. "Chris was so supportive. He didn't pamper me. He'd say, 'Just do it. You can do it.' Now he calls me a 'media sound bite machine.'"