Chick-fil-A introduces Hash Brown Scramble, ditches other breakfast item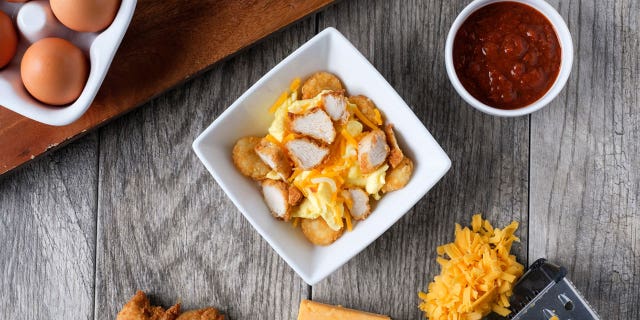 Chick-fil-A has announced plans to discontinue one of its breakfast items, but fret not: When one of Chick-fil-A's hands taketh away, the other giveth in the form of a completely new a.m. offering.
In a press release issued on Monday, Chick-fil-A announced the nationwide roll-out of its Hash Brown Scramble, a new "breakfast bowl" which will be replacing the chain's current Breakfast Burrito.
The Scramble, like the Breakfast Burrito, is made with scrambled eggs, cheddar, Monterrey Jack and spicy jalapeno sausage, but in place of the Breakfast Burrito's fire-roasted onions and peppers, the Scramble will include Chick-fil-A's "tot"-style hash browns, the press release explains.
CHICK-FIL-A CUSTOMER CLAIMS DEAD RODENT WAS IN CHICKEN SANDWICH
Patrons will also be able to choose whether they'd like their Scrambles with sliced chicken nuggets or sausage. And just in case they crave their morning meal in burrito-form, the new Scrambles can also be served in a tortilla. Both options start at $3.49.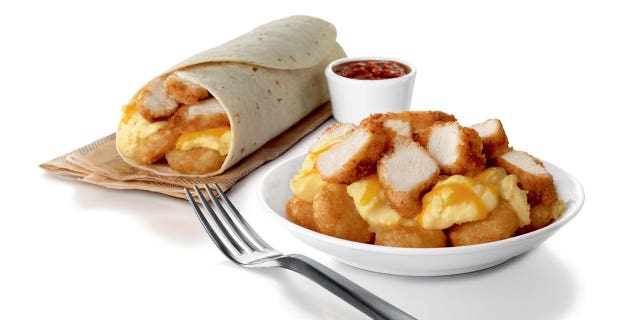 "At Chick-fil-A, we understand the importance of breakfast and want to provide a wide range of options to our guests who are looking for a fast and delicious breakfast," wrote Amanda Norris, senior director of menu development for Chick-fil-A, in a press release.
"We've definitely seen an increase in popularity for breakfast bowls, and the Hash Brown Scramble combines two fan favorites — our chicken nuggets and hash browns. It is a great fit for those seeking a delicious and hearty breakfast that is also packed with protein."
FOLLOW US ON FACEBOOK FOR MORE FOX LIFESTYLE NEWS
The Hash Brown Scramble joins such Chick-fil-A breakfast offerings as its Chicken Biscuit (a fried chicken filet in a biscuit), its Egg White Grill (a breakfast sandwich with egg whites and grilled chicken) and its Breakfast Platter (scrambled eggs, a biscuit, and either a fried chicken breast filet or a slice of pork sausage.)
The Scramble also comes to Chick-fil-A after a successful run in test markets over the last few years. Last month, the chain announced plans to test its new Family Style Meals in select cities, but it's not yet known whether they, too, will be added to the menu in the near future.