Chicago Bulls' Zach LaVine blasted by seafood restaurant on social media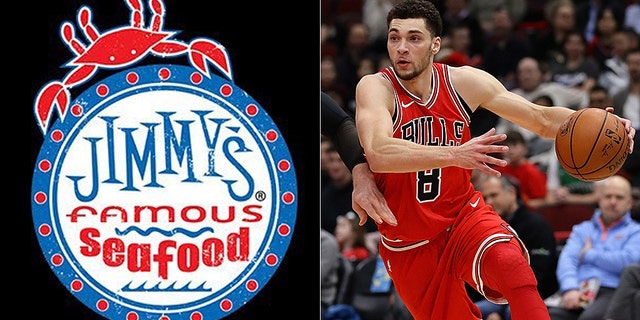 A seafood restaurant took aim at Chicago Bulls player Zach LaVine on social media Sunday after the eatery was asked when it was going to open up shop in the Windy City.
Jimmy's Famous Seafood, based in Baltimore, sarcastically responded it would open up a Chicago location if Michael Jordan would come out of retirement to play for the Bulls.
RESTAURANT APOLOGIZES FOR NOT SEATING NBA STAR 'GREEK FREAK' AFTER PLAYOFF GAME
One user chimed in to add that they believed LaVine was good enough to warrant the restaurant. However, the eatery took the opportunity to take a jab at the 23-year-old.
"How about you give us the 78 mil (sic) you wasted on LaVine, and we give you free crab cakes for life?" Jimmy's Famous Seafood tweeted, referencing the contract LaVine signed in the offseason.
LaVine chimed in and said he was "allergic to shellfish anyway."
Jimmy's Famous Seafood clapped back one more time.
"And defense."
The small spat appeared to end at that moment.
FOLLOW US ON FACEBOOK FOR MORE FOX LIFESTYLE NEWS
LaVine has played four seasons in the NBA, and is entering his second with the Bulls. He signed a four-year, $78 million deal with Chicago in the offseason.
Despite a few injury-riddled seasons, LaVine is averaging 22 points, 5.2 rebounds and 4 assists for his career.