Celeb Chef Alain Ducasse Prepares to Cook for Monaco's Royal Wedding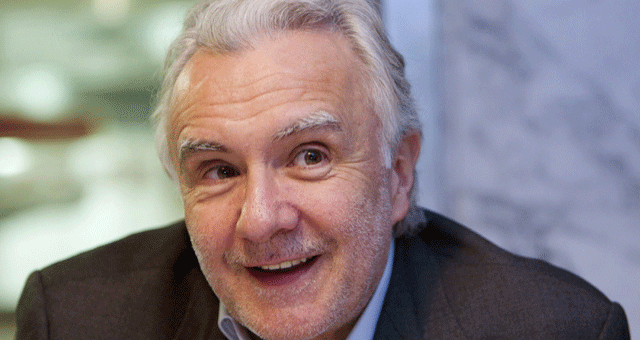 PARIS – With three triple-star Michelin restaurants and more than 20 other temples of haute gastronomy scattered around the globe, celebrity chef Alain Ducasse is used to catering to the rich and famous.
But the veteran cook admits his blood pressure is rising ahead of next month's royal wedding in Monaco, where he will prepare a multi-course gala dinner for Prince Albert, bride-to-be Charlene Wittstock, and their 500 A-list guests.
"I've done gala dinners before, but never an official meal for a head of state. It's a first for me," Ducasse told The Associated Press in an interview Wednesday in Paris.
Asked whether he was feeling daunted by the task, the chef nodded, although he vowed to "share my stress.
"I'm going to pass it along to those I work with," he said, laughing.
And with an estimated 350-stong team on hand for the July 2 event — which caps the two-day-long nuptial festivities in the tiny Mediterranean principality — Ducasse should be able to spread his stress widely.
While being careful not to divulge exactly what's on the menu for the three-course meal, Ducasse revealed just enough to make the mouth water.
"Prince Albert is very interested in protecting the Mediterranean, its flora and its fauna. It's something of an obsession," Ducasse said. "We decided to do something sustainable, local and ethical."
"It's going to be like the essence of the Mediterranean Sea, its tastes, its smells and its colors ... fresh line-caught fish, garden vegetables and fruits for dessert," he said.
Besides the Champagne, which comes from the eponymous region of northeast France, and a South African red wine honoring the bride's roots, nearly all ingredients will be sourced from a 6-mile (10-kilometer) radius from Monaco — a tiny concrete hive of high-rises, Art Deco casinos and five-star hotels.
The honey will come from Monaco's very own urban bee hives and the fish — all local species, none of them threatened with extinction — are to be line-caught hours before they're served up, Ducasse said.
The vegetables, a sun-drenched medley of local staples including tomatoes, peppers and zucchini, are being grown at the prince's own farm, and will never suffer the indignity of refrigeration, being harvested just hours before the dinner.
Ducasse said Prince Albert invited him to prepare the gala dinner in a mystery-cloaked meeting in the Monegasque embassy in Paris last February.
"I didn't know what it was about, but I was hoping it was about the wedding," said Ducasse, who was born in France but officially became a citizen of Monaco three years ago. "I told him, 'my lord, I took the liberty of already preparing a menu, so as not to waste time.'"
The menu got the princely stamp of approval: Both Prince Albert and Wittstock, a former Olympic swimmer, sampled the meal and "they liked it, which is a relief," Ducasse said.
He said he'll also be in charge of preparing the post-festivities brunch on July 3, in conjunction with Monaco's other celebrity chef, Joel Robuchon.
Still, the wedding — the first marriage of a Monegasque monarch since 1956, when Albert's father, Prince Rainier III, wed American actress Grace Kelly — is not the only thing on Ducasse's plate. The chef-cum-empresario was jetting off to Saint Petersburg, where he was to inaugurate the newest edition to his 20-plus restaurant empire and his first foray into Russia.
After that comes his breakthrough endeavor in the Middle East, a restaurant in Doha that's slated to open in the coming months.
Ducasse already runs establishments in Monaco, Italy, Japan, Hong Kong and France, where he runs the Jules Verne, a fine dining experience perched 410 feet (135 meters) up the Eiffel Tower. In the U.S., the affable 54-year-old has restaurants in Las Vegas, New York, Washington D.C., and Puerto Rico.
Ducasse holds an impressive total of 19 Michelin stars, according to company officials.
"I keep busy," the chef said with a wistful smile.