Casey Webb of 'Man. v. Food' names two of his favorite 'food cities'
NEWYou can now listen to Fox News articles!
Casey Webb is up to some serious "shenanigans" on this season of "Man v. Food."
Webb is hitting 14 new cities in his second season as the titular "Man" from the Travel Channel series, and he tells Fox News he's ready to take on even more challenges — and more cities — now that he's getting the hang of things.
"The first season was such a blur, 'cause it happened so fast," Webb said. "The second season, I was really able to let my guard down, and I really want that to come through in the show."
"We've taken the laces off," he added. "[We're] simply having fun. A lot more fun and shenanigans."
5 OF THE MOST OUTRAGEOUS SANDWICHES IN AMERICA
But Webb, who worked in the restaurant industry before becoming TV's most monumental eater, is just as anxious to soak up the local culture as he is calories. In fact, Webb's travels have introduced him to a couple of surprising foodie Meccas he never even knew existed.
"I was actually surprised about some of the cities that we visited," Webb told Fox News, citing Boise, Idaho and Pittsburgh in particular.
"I had no idea what was going on in Pittsburgh," said Webb, a native New Yorker. "There's so much going on. It's a huge beer scene, there's dozens of breweries — more popping up every day — and then even with the food scene, it's just incredible."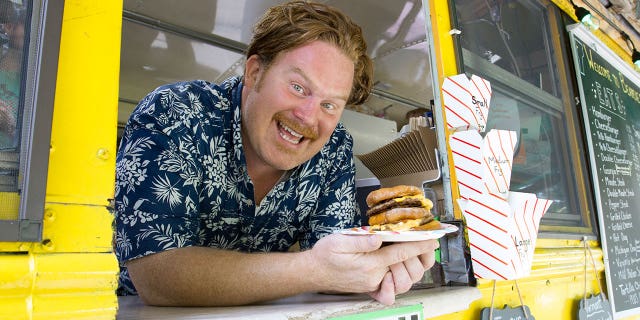 LAST-MINUTE GIFTS FOR THE HOT SAUCE FANATIC IN YOUR LIFE
And of course we couldn't let Webb go without getting his expert advice for attempting an eating challenge.
"Advice? Yeah. When you're full, stop eating. When it's too hot, stop," he joked.
Watch the segment above for more from Webb, including his actual advice for anyone planning to conquer a food challenge of their own.
FOLLOW US ON FACEBOOK FOR MORE FOX LIFESTYLE NEWS
Catch all new episodes of "Man v. Food," Mondays at 9:30 p.m. EST on Travel Channel.