California woman crashes through restaurant ceiling after asking to use the bathroom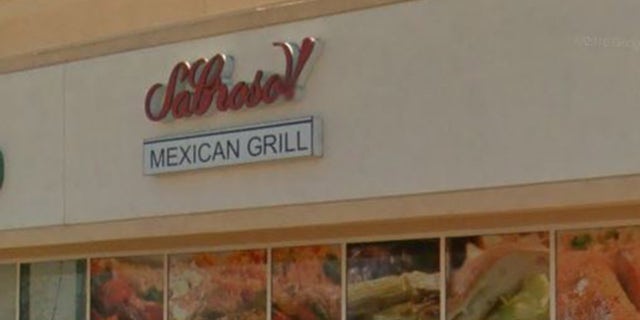 A woman at a Mexican restaurant in California came crashing through the ceiling tiles after asking staff to use the bathroom.
The unidentified woman was caught on camera falling from the ceiling at the Sabroso! Mexican Grill, in Garden Grove, on Sunday.
The shocking footage was captured by YouTube user Japangie, who called the woman a "crack head." According to police, the woman appeared to be homeless and on drugs, though they did not confirm what kind of substance they suspected the woman was on, CBSLA reports.
WARNING: Video contains strong language.
The restaurant staff said the woman asked to use the restroom and an employee allowed her, the restaurant confirmed to Fox News. The woman was in the bathroom for a long time, causing a line to form before she was eventually heard crawling in the ceiling.
FAMILY 'HORRIFIED' BY 'POLITE NOTICE' RESTAURANT STAFF HANDS OUT
In a statement to Fox News, the restaurant said they had never seen the woman before.
"The woman that fell through the ceiling tiles was NOT a patron of our establishment. We do not know her identity as my staff and I had never seen or served her before. All we know is she is a middle-aged Caucasian woman."
Patrons are seen moving out of the way moments before the woman breaks through and falls to the floor.
In a longer version of the video, the woman is heard yelling "don't hurt me" at officers.
The woman told officers she did not know how she got into the ceiling, but restaurant staff said she crawled through a false panel in the bathroom.
The restaurant told Fox News the woman "must be very atheltic" to have gotten into the ceiling.
"We can also infer that she must be very athletic though because she managed to climb up a urinal in our unisex bathroom and then hopped in to the crawlspace opening directly above the bathroom which is about 15 feet high," Sabroso! Mexican Grill co-owner Paloma Munoz told Fox News.
MAN ASKED TO LEAVE RESTAURANT BECAUSE OF 'LARGE' CROSS NECKLACE, HE CLAIMS
Japangie, who claimed to be a customer, posted the video on Reddit and said the woman snuck into the restaurant and ran off to the bathroom before seeing "debris falling from an area outside the restroom."
"The staff was telling us we might want to move from our table because they thought someone had climbed into the ceiling," the Reddit user wrote.
The woman was treated for minor injuries. No one else was hurt.
FOLLOW US ON FACEBOOK FOR MORE FOX LIFESTYLE NEWS
Sabroso! Mexican Grill did not immediately respond to Fox News' request for comment.