Buffalo chicken pizza is the secret to inducing labor, say North Carolina moms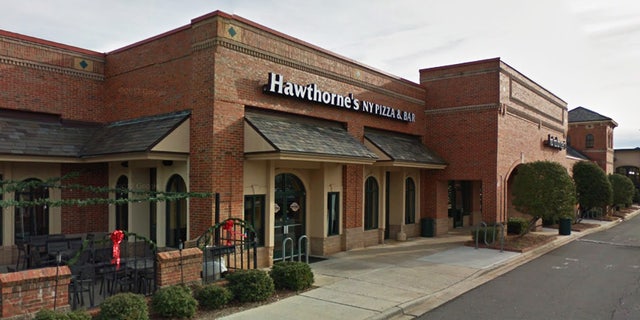 Pregnant and past your due date? Try hitting up Hawthorne's New York Pizza & Bar in Charlotte, N.C. According to locals, the restaurant's signature Buffalo Wing Pizza has the power to induce labor.
Made with buffalo sauce, chicken and mozzarella cheese, the Buffalo Wing Pizza — or "the inducer," as patrons now call it — has gained an odd reputation for sending soon-to-be moms straight to the delivery room. In fact, the owner of the Hawthorne's chain, Michael Adams, claims that several different women have vouched for the pizza's powers since the restaurant's very first instance of buffalo-induced labor.
"I think it's amazing," Adams told Charlotte Five. "When the first person posted that Buffalo Wing Pizza induced their labor, several new moms followed up to say the same thing.
THIS 'CENTUONO FORMAGGIO" PIZZA HAS 101 CHEESES ON IT
"I bet my wife wished she had known about the inducing pizza when she had our two kids at 9-pounds plus," he added.
Three friends in Charlotte even claim they each gave birth within hours of eating Hawthorne's Buffalo Wing Pizza — and one within minutes of finishing her first slice.
The latest, Henley Schmiedel, wasn't even due until April 10, but told Charlotte Five she was "just done with this pregnancy" by the end of March. Believing that spicy dishes have the power to induce labor, her friends ordered her the pizza, and lo and behold, she delivered a baby later that night on March 31.
But before any more moms-to-be head over to Hawthorne's for a slice, experts say there's no evidence that any specific foods have the power to bring on a baby.
In 2013, midwife and certified nurse Michelle Collins told Fox News that while vinegars, spices, or certain foods like eggplant or pineapple have been rumored to induce labor, there's no scientific data to suggest eating them actually works. On the other hand, she says that bromelain, an enzyme found in pineapple, can "ripen the cervix" to increase the chances of a successful vaginal birth, though one would have to eat large quantities, and only with a doctor's approval.
FOLLOW US ON FACEBOOK FOR MORE FOX LIFESTYLE NEWS
Even if there's no evidence to support the magical properties of "the inducer," it's unlikely that new mom Schmiedel will stop indulging her future pregnancy cravings, if only because she loves the taste.
"The pizza is amazing," Schmiedel told Charlotte Five. "It was spicy. It does have a kick to it."