BrusselKale: new superfood hybrid or a child's worst nightmare?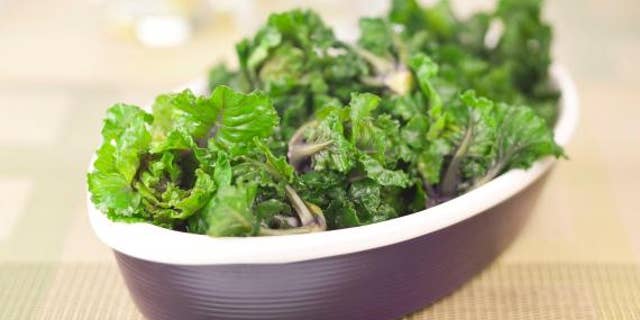 Here's a food mashup that may just be good for you.
Meet BrusselKale a revolutionary new hybrid from U.K. vegetable breeder Tozer Seeds that's the love child of two super trendy vegetables: Brussels sprouts and kale.
Known also as Flower Sprouts, kale sprouts and lollipop kale, the vegetable has been available across the pond for a few years, and grown in popularity. Now, it's set to make its North American debut in debut in Toronto later this month, CTV reports.
According to the Tozer Seeds website, the leafy green vegetable gets its "fantastic flavor by combining the complex taste of the [Brussels] sprout with the mild, sweet 'nutty' taste of the kale."
Tozer Seeds also claims that BrusselKale is rich in vitamin B6 and contains double the amount of vitamin C found in traditional Brussels sprouts.
Bob Whitaker, chief science officer for the U.S.'s Produce Marketing Association, told Today.com that its "most distinctive" hybrid vegetable since broccolini. Tozer Seeds also won third place at the 2013 Fruit Logistica Innovations Awards for "outstanding innovation in the international fresh produce sector."
Some kids may turn up their nose at the purple-tinged leafy green, but retailers are getting ready for this latest superfood.
"Any mixture with kale seems to fly off the shelf," John Mastroianni, general manager of Canada's high-end grocery store Pusateri's told CTVNews. He says that customers have been inquiring about the small green and purple sprout since the beginning of March.
Looks like it won't be long now until we see BrusselKale done three ways on every restaurant menu. No word yet on when this new vegetable may hit American grocery stores.