Brooklyn restaurant employee fired for telling patrons manager is racist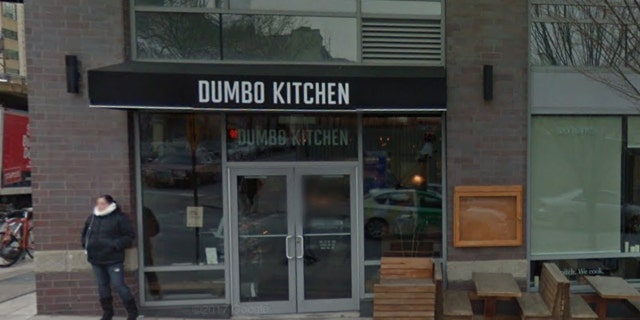 One disgruntled restaurant staffer in Brooklyn, N.Y., is officially unemployed after declaring that her manager was racist as she booted customers from the shop near closing hours.
On the evening of Nov. 12, customer Jypsy Jeyfree shared a now-viral video on Instagram of a female employee at Brooklyn's Dumbo Kitchen getting hysterical and insisting that Jeyfree leave immediately. The incident also led Jeyfree to write in the caption that she was told "in the most hateful, disrespectful and rude manner" the eatery had closed.
"Your manager doesn't like black people, honey," the person filming the encounter can be heard saying in the clip, to which the employee shrieks, "Everybody in here knows that already!" (WARNING: Video contains strong language.)
When the disgruntled staffer realized that she was being filmed, she approached the woman filming and tried to take the cell phone from her hand.
PAPA JOHN'S APOLOGIZES FOR CEO'S 'DIVISIVE' NFL ANTHEM REMARKS, SUPPORTS PLAYER'S 'RIGHT TO PROTEST'
"True racism at its finest," Jeyfree captioned the photo, adding that the employee "straight kicked us out and jumped in my face saying she would beat me up."
"This world that we live in is in a spiritual warfare! I am APPALLED! STOP THE HATE," she continued, later writing that her "heart hurts" over the matter.
DUNKIN' DONUTS STAFFER SOLD DRUGS ON THE JOB, POLICE SAY
The next day Dumbo Kitchen took to Twitter to voice its disgust with the situation, noting that both the employee and manager on duty that evening had been fired.
"Hate and Racism will not prevail. We do not stand by the sick comments by our ex-employee for a second. We pride ourselves on fairness and equality. We are taking legal action against these individuals immediately," they said.
"It came as an absolute shock. It's something we don't believe in for one second," Dumbo Kitchen's owner Adam Ragib told the Daily News.
Further stating that there was no truth to the manager being racist, Ragib told the outlet he is considering filing a civil claim against the employee who harassed Jeyfree. In addition, NYPD has also investigated the incident, though a police spokeswoman noted that no formal complaint has been filed.
FOLLOW US ON FACEBOOK FOR MORE FOX LIFESTYLE NEWS
The restaurant announced that they will hold a community event on Nov. 17, event where the owners will further discuss the incident and offer an apology to the customers involved.