British supermarket Waitrose changing name of 'Gentleman's' sandwich after controversy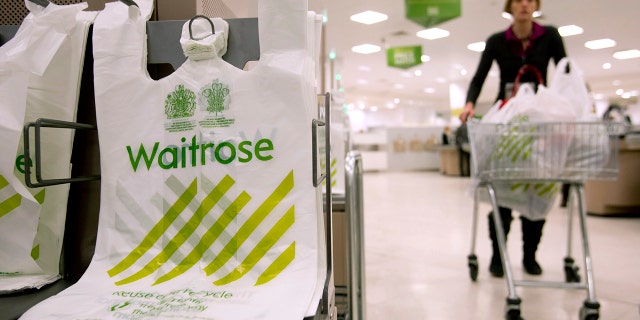 A British supermarket chain has said it plans to rename its "Gentleman's Smoked Chicken Caesar Roll" sandwich after complaints of the name being sexist and "ridiculous."
Waitrose, which operates over 350 locations throughout the U.K., has apologized to anyone offended, but claimed it was "not dictating who should eat this sandwich," a spokesperson confirmed to The Telegraph.
"It's never our intention to cause offense — we're not dictating who should eat this sandwich - we hope anyone who tries it will love the distinctive flavors. However we are planning to change the name of the sandwich soon," the supermarket told the outlet.
NEW ZEALAND SUPERMARKET BANS PLASTIC BAGS, SO PEOPLE START STEALING BASKETS
Controversy over the sandwich, which is reportedly part of a line created for Waitrose by British celebrity chef Heston Blumenthal, began after a customer shared a photo of the label on social media, along with a sarcastic thank-you to Waitrose for allowing her to purchase it.
"I never knew sandwiches were gender specific," wrote customer Amy Lamé, also an entertainer and author. "I'm a female but thankfully @waitrose let me purchase this anyway."
Lamé's post, which itself may have been a silly observation, soon became flooded with comments, some from users calling the sandwich "outrageous" or "ridiculous," but also from critics who pointed out that items such as ladyfingers, or pink lady apples, also have gender-specific words in their names.
AMERICANS WOULD RATHER SPEND MONEY ON BETTER TOILET PAPER THAN THESE OTHER ITEMS
Several others also noted that the sandwich contains anchovy paste, which is sometimes colloquially referred to as "gentleman's relish" in the U.K. "Gentleman's Relish" is also the brand name of an anchovy-and-butter-based spread produced in England.
The "Gentleman's" sandwich does not currently appear in Blumenthal's signature line on Waitrose's official website.
FOLLOW US ON FACEBOOK FOR MORE FOX LIFESTYLE NEWS
Waitrose found itself at the center of controversy after announcing in April that it would be employing "healthy eating specialists" to help suggest more nutritious meals to customers. At the time, British media outlets including The Telegraph and The Daily Mail have already dubbed the in-store specialists "health food police" and "nutrition nannies," respectively.