Ballpark recipes to make at home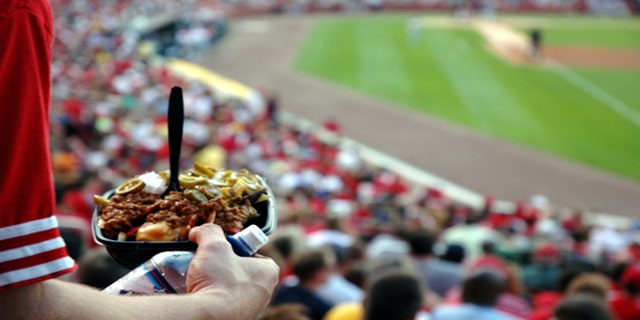 We all know how that song goes, "Take me out to the ballgame/Take me out with the crowd/Buy me some peanuts and Cracker Jack…," right? We're no fools here at The Daily Meal, and we know that just as that song points out, the actual game is only half the fun of heading to the stadium, as many fans look forward to the food just as much as the fly balls. Looking beyond the cotton candy and pretzels, baseball stadiums throughout the country have taken the level of food they're serving up a notch, and we're starting to see specialty foods and signature dishes pop up everywhere. For those of you who can't wait to get your hands on a heaping plate of nachos or a double-stacked hot dog, here are some easy and delicious recipes of ballpark food for you to make at home.
The food served at ballparks doesn't just appear out of nowhere — there's a lot of time and effort put into the planning and executing of menu items. Enter Aramark, an award-winning professional services company that provides food-services to 11 Major League baseball stadiums. Aramark covers everything from the vendors, including the lowly ones like boiled peanut carts and the not-so-lowly ones like Shake Shack at Citi Field, to the menus served at concession stands, professional suites, and membership clubs. The team at Aramark doesn't just start from scratch, either; after scoring the country for the most talented and well-known chefs, they delve deep into data from fan surveys, national trends, and market-specific tastes to create menus that will hit the ball out of the park, literally.

So what about the recipes? After analyzing what's hot and what's wanted, Aramark goes about crafting dozens of unique and creative renditions of ballpark staples. Two of their most novelty items include hot dog and nacho recipes, and that's no mistake — during the 2011 baseball season, fans consumed more than 5.84 million hot dogs and 900,000 nachos at Aramark-partnered stadiums. But Aramark doesn't just stop at hot dogs and nachos; their chefs continue to create new and original ballpark recipes each year. Their creations are so good, they probably have celebrities swooning. We bet that former President Jimmy Carter opts for the "Dixie Dog" over the usual mustard and ketchup when watching his precious Atlanta Braves at Turner Field, and while buddies Adam Sandler and Ben Stiller root on their team, the New York Mets, we hope they're chowing down on the steamed branzino with leeks and a saffron broth served at the Acela Club.
We know, we're making your mouths water, and you're probably not anywhere close to Atlanta or New York. Not to worry, because we have 11 of Aramark's most popular ballpark recipes for you to make at home. No matter where you are or what team you root for, these recipes are easy to make and will quickly become a fan-favorite in your household.

Angels Stadium Southwestern Cali Dog
If you're from Southern California you usually have a hankering for one thing: Southwestern food. Aramark brought it to the ballgame with this recipe served at Angels Stadium, and we think you'll enjoy it even if you're not a Californian (or an Angels fan).
Click here for the Southwestern Cali Dog Recipe
Rogers Centre Big-Smoke-Jerk- Chicken Nachos
Many Toronto natives claim to be jerk-chicken connoisseurs, and this recipe from Toronto Blue Jays Rogers Centre is Aramark's attempt to be one as well. We think it earns them the title.
Click here for the Big Smoke Jerk Chicken Nachos Recipe
Fenway Park Lobster Roll
When you're in New England, you have to have a lobster roll, and we love Fenway Park's recipe. We like to think that celebrity Red Sox fans like Mark Wahlberg share our feelings about it.
Click here for the Lobster Roll Recipe
Coors Field 'S'mores Nachos'
With 900,000 orders of nachos having been consumed at ballparks in 2011, Aramark knows that the fans like their cheese and chips. They tested the waters with this s'mores recipe at the Colorado Rockies' Coors Field — and the results have been quite satisfying.
Click here for the 'S'mores Nachos' Recipe
Citizen's Bank Park 'Tastykake Bread Pudding'
Philadelphians are usually crazy about two things: the Phillies and TastyKake. This bread pudding recipe is Aramarks way of letting them enjoy both at once.
Click here to see the 'Tastykake Bread Pudding' Recipe
PNC Park Pulled Pork and Pierogi Stacker
If you're a Pittsburgh Pirates fan, you most likely like pierogies, and that was the reasoning behind the creation of this pulled pork recipe.
Click here to see the Pulled Pork and Pierogi Stacker Recipe

See all 11 ballpark eats to make at home here
More from The Daily Meal

6 Common Kitchen Injuries and What You Should Know

An Olympian and A Cook

11 New Ways to Use Celery

10 Brands of Chef's Knives You Should Consider Buying