Cheapest ways to eat at the ballpark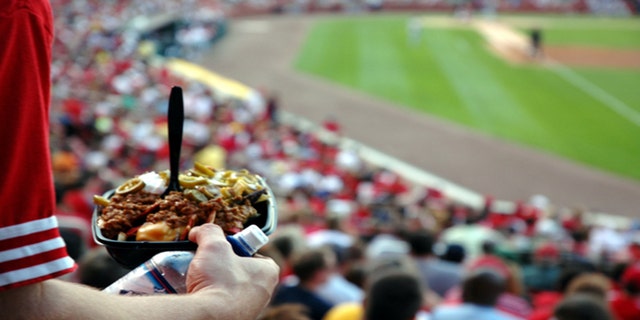 An estimated 73 million Americans attend a major league baseball game every season. Indeed, for many of us, it just wouldn't be summer without spending at least one afternoon in the stadium stands — foam finger, foamy beer, and stadium hot dog in hand (though hopefully not all three at the same time).
But with big-league games come big-league costs — especially where food and drink are concerned.
The average ticket for a 2012 major league bout will run you $26.98, according to a study from Team Marketing Research, and compared to the typical ticket prices for other professional sporting events, that's a bargain.
Pairing that cheap baseball ticket with nine innings worth of nosh, however, can slam that reasonable expense right over the fence. Major league teams have, in recent years, introduced a bevy of tempting specialty items with sky-high prices. Fenway Park, for instance, sells a $15 prime rib sandwich, while vendors at the Marlins' Sun Life Stadium want you to spend the same amount on a plate of nachos — served inside a baseball helmet.
Even keeping it simple can get pricey: An average stadium hot dog will this summer cost $4.13, and a 16-ounce beer with run you $6.10, again according to Team Marketing Research. And let's be honest. How many of us are going to eat, or drink, just one?
Fortunately for thrifty baseball fans, it doesn't take much effort to scarf snacks and save cash while reveling in a major league ball game. Check out the following 15 tips for ideas on eating on-the-cheap this baseball season.
All-You-Can-Eat Seats
If a ballgame just wouldn't be a ballgame without the full-on food experience — hot dogs, nachos, pretzels, peanuts — consider investing a little extra money for "all-you-can-eat" stadium seats.
First introduced by six teams in 2007, the seats are now available at many more major league stadiums across the country. But be warned: All-you-can-eat seats are typically located in nosebleed sections, and there's a ticket markup of $15 to $20. But if you know you're going to go crazy with the concessions, the investment will likely save some money: According to an analysis from ESPN.com, scarfing two hot dogs, an order of nachos, a bag of nuts, and a soda will more than offset the extra ticket price.
Fenway Park: Drink Before the Game
The stadium that's home to the Boston Red Sox boasts the highest ticket prices among major league baseball teams. And that isn't the stadium's only dubious distinction: They also have the highest beer prices, at $7.25 (or $0.60 an ounce).
Skip the stadium brew, and opt for a few pregame beers at one of Fenway's nearby bars. Bleacher Bar offers $20 buckets of beer, while Jerry Remy's boasts a huge menu of on-tap booze. Even better? Both are within walking distance to Fenway.
Brown-Bag It
It's a stadium secret that plenty of ballgoers don't know: The majority of major league teams will let you bring nearly any food, whether homemade or restaurant takeout, into a game.
Policies vary from stadium to stadium, but most allow food that's carried in a soft bag or cooler, along with water toted in clear, sealed plastic bottles. But take note, because there are some standard no-no's to the BYOF rules: Security won't allow anything hard — like aluminum cans, glass bottles, or firm-sided containers — that might break or be thrown at players (or other fans) by rabblerousing game-goers.
Comerica Park: Five-Dollar Value Meals
At Detroit's Comerica Park, adults and kids alike can dine on $5 "Value Meals" available from nearly a dozen vendors around the stadium.
For grown-ups, that means a hot dog, chips, and a soda. For kids, it's the same deal — with a juice box subbing for a Pepsi. No, the meals aren't exactly fine dining — but considering that plenty of ballparks charge upward of $5 for a single hot dog, this is one of the cheapest dining options among stadiums nationwide.
Nationals Park: Discount Nights for Low-Cost Nosh
The Washington Nationals boast some of the best discount nights among major league teams nationwide. And many of them, to the delight of D.C food fanatics, are oriented around cheap grub.
This season, fans can enjoy regular Beltway Burger nights, which include a burger, fries, and soda with a ticket purchase. Family fun days include a hot dog, chips, and soda with each ticket, and Miller Lite Party Nights mean two free beers included in every $25 ticket.
MLB.com App
Major League Baseball's "At the Ballpark" app, introduced this year and available free on iPhones, offers plenty of perks, including interactive stadium maps and team records.
Most importantly, the app allows game attendees at five stadiums (including Citi Field and Citizens Bank Park) to order their food remotely, and have it delivered to their seats. Not to mention scrumptious savings: The app offers a rundown of discounts for any given game night, exclusive food coupons, and a listing of available foods and their prices — making it easier to find the vendor shilling the cheapest pretzels in the stadium.
AT&T Park: Foodie-Friendly Theme Nights
The San Francisco Giants' AT&T Park has one of the most impressive rosters of theme nights across the league, and most of them boast major appeal for wallet-watching food lovers.
Nearly every theme night (see them all here) includes cheap or free food — and game admission — in the ticket price. A few of the best: The Garlic Fest will include discounted portions of the stadium's famous Gilroy Garlic Fries; Brewfest offers fans three hours of beer tastings, along with a free commemorative mug; and Off the Cove Night lets you sample the delicious offerings of myriad San Fran food trucks.
Consider Season Tickets
For foodies who also consider themselves serious baseball falls, consider shelling out for season tickets. Most major league teams offer major food discounts to season-ticket holders.
The Atlanta Braves, for example, offer a 33 percent discount on food and beverages at Turner Field for season-ticket holders. Other teams, including the Miami Marlins and Philadelphia Phillies, pony up access to all-you-can-eat lounges, exclusive on-site restaurants, or credit towards food and drink.
Skip the Stadium
Heretical? Maybe for the die-hard ball fan. But for those just looking to catch the game with friends — and affordable food and beer — consider skipping the ballpark and opting for a local bar or restaurant.
No matter your location, plenty of outlets will offer themed game-night deals and discounts, from happy hour beer deals to free hot dogs. Not to mention unobstructed views of the game and a roomful of enthusiastic fans.
For more cheap eats that ballpark click here.
More from The Daily Meal

The Best (and Worst) Hot Dogs to Buy

The Dining Apps You Actually Need

9 Best Chip Flavors You've Never Heard Of

8 Ice Pop Flavors You Didn't Know Existed