Bad date at Olive Garden captured on camera goes viral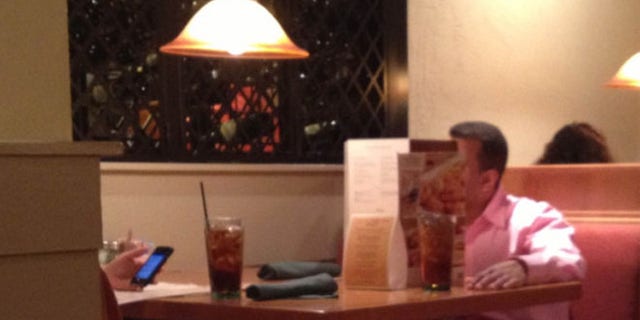 It's bad enough to have a fight in public, but even worse when the whole thing gets captured on camera and goes viral.
On Sunday, software designer Adam Howell went to an Olive Garden in Pineville, North Carolina and couldn't help overhearing two diners having a spat in a nearby booth.
All fairly easy to ignore, right? Not so much when the man tried to resolve the situation by barricading himself in a fort made of Olive Garden menus. Howell couldn't resist and sent a picture of the bickering couple to Twitter.
The picture shows that the unidentified man's date responded by playing with her cell phone.
The photo quickly went viral, and has been retweeted over 1400 times. The post also sparked an online debate, with some Twitter users say they empathize with the woman, while others questioned the undo publicity.
"I feel like I've probably dated this type of guy before. I'd prob put $ on it," wrote one Twitter user.
"I'm wondering what's more pathetic. The guy acting this way? Or someone with a phone who can't mind his own business," wrote another.
Howell, talking to the Huffington Post, said the menu fort eventually came down when the waitress took the menus away, but then the man resorted to playing with his phone.
"He didn't seem to think that it was too ridiculous," Howell said. "He wasn't apologizing or anything, it was just something that happened," he told the Huffington Post.
The Olive Garden has not yet returned calls to FoxNews.com for comment.