Armed customer thwarts restaurant robbery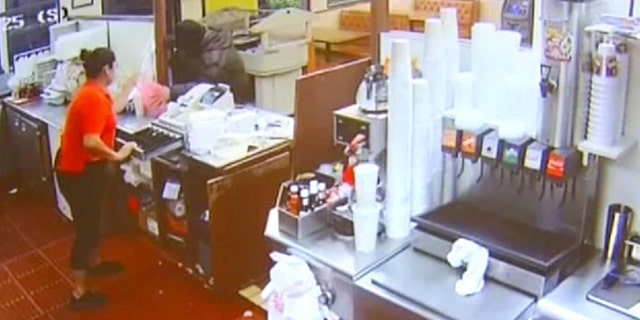 A 60-year-old man was shot twice during a robbery attempt at a fast food restaurant in California.
The shooting happened about 12:45 Saturday morning in Santa Ana, Calif., when the unnamed masked robber threw a bag at the cashier at the Cozy Corner Drive-In and demanded she fill it with money.
After the man grabbed the bag, a customer at the drive-thru window reportedly took out a gun and started shooting at the robbery suspect.
DENNY'S CUSTOMER ARRESTED AFTER ALLEGEDLY SLAPPING WAITRESS' BUTT
According to the Santa Ana Police Department, the robbery suspect was shot twice in the upper torso area, NBC 4 reported. Another shot hit the drink machine in the restaurant.
The shooting suspect drove off following the incident. The robber tried to flee, but collapsed outside the restaurant where police apprehended him.
The robbery suspect was taken to a nearby hospital where he was treated for gunshot wounds.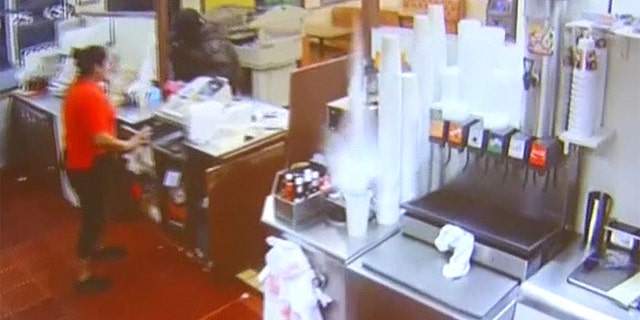 The restaurant's manager, Francisco Reyno, told NBC 4 he's happy none of his employees were hurt during the shooting. He is also relieved the stolen $274 was immediately recovered.
FOLLOW US ON FACEBOOK FOR MORE FOX LIFESTYLE NEWS
Police are investigating the incident. According to surveillance video and employee interviews, the shooter was alone in a silver sedan, NBC 4 reported.
A cook that was interviewed at the scene said he did not believe the shooting suspect knew the robber or had any connection to the incident.
"Al mejor el carro quizo ayudar," employee Acevedo said to CBSLA, believing the people in the car were trying to help, at best.
The restaurant remained open for business Saturday.