6 funky twists on fried chicken
Though once a staple of Southern cuisine, fried chicken is taking on some decidedly interesting twists. Across the country, restaurants are creating modern interpretations of the old classic--using some wild and wonderful ingredients.
In Washington, D.C., for example, there are two fried chicken and doughnut shops that opened their doors this spring. Astro Doughnuts & Fried Chicken, founded by award-winning Fiola's former party chef Jason Gehring, rotates seasonal doughnut flavors each week, alongside four varieties of fried chicken: traditional buttermilk, Korean-style, Garlic and Sriracha.
Down the road, the folks behind ChurchKey and Birch+Barley have opened GBD, short for golden, brown and delicious, after the success of their own fried chicken sandwich, The Luther (a maple-glazed brioche doughnut topped with pecans encases buttermilk fried chicken and applewood smoked bacon). At GBD, fried chicken lunch boxes with a crème fraiche biscuit, kohlrabi slaw and sides like pimento mac'n'cheese and tater salad are offered during the day alongside a choice of chef Kyle Bailey's 12 housemade sauces. Also expect fun spin-offs like fried chicken skin and chicken fried pickled green tomatoes.
From doughnuts to waffles, biscuits to beans, take a look at some of the fun and funkiest fried chicken selections out there:
1. Federal Donuts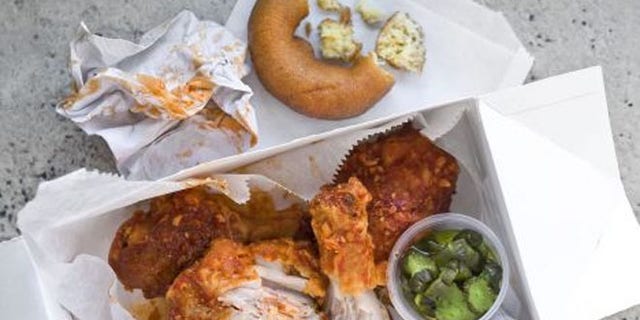 D.C. may be jumping on the bandwagon, but the original fried chicken and donut shop started in Philly at Federal Donuts back in October 2011.
"It was something we felt was really underserved in that there was no place you could get really brilliant fried chicken that wasn't a sit-down restaurant, and definitely no place serving artisanal donuts," says partner Felicia D'Ambrosio. "We solved our own problem."
The quirky shop opens at 7 a.m. with two varieties of donuts: Hot Fresh (made to order, fried and rolled in one of three types of sugar) and Fancy (think fun flavors like maple bacon and spicy PB&J). Come early; once they're gone, the shop doesn't make more. Ditto to the fried chicken, which starts at 11 a.m. and comes in three rotating flavors, like chile-garlic, buttermilk ranch and coconut curry, plus an off-menu flavor (dill pickle glaze), famous among foodie insiders.
2. Hot Sauce and Panko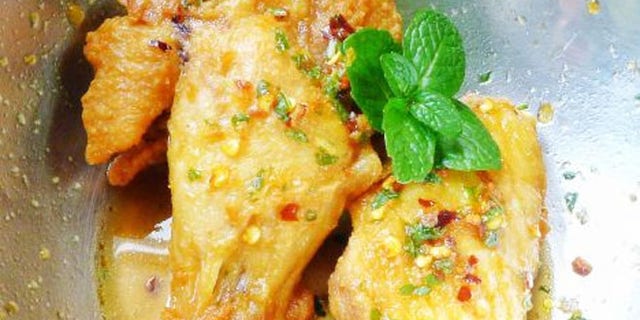 In San Francisco, Hot Sauce and Panko dishes out a dozen flavors of chicken wings, like shiro miso mango and garlic parmesan, alongside Belgium waffles Even better? Nearly 100 flavors of hot sauce complement your selection, which if you're like most of their customers will be the KFC (Korean Fried Chicken) or the Green Wings (a blend of cilantro, jalapeno, ginger, and sesame oil). Be prepared to wait (wings are made to order)—you may even want to call ahead to pre-order as they often run out.
3. Ad Hoc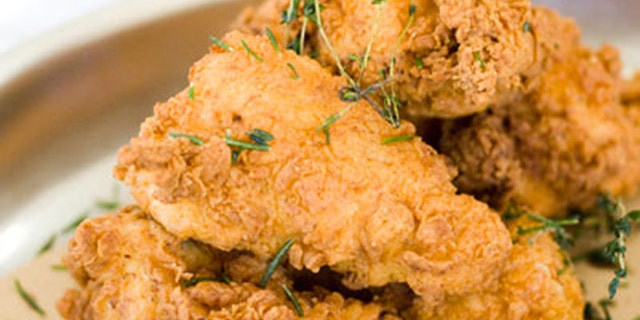 At Thomas Keller's casual family-style eatery, ad hoc, in Yountville, fried chicken is the name of the game. They've even opened a grab-and-go spot out back, addendum, serving boxed lunches of fried chicken and BBQ Thursday through Saturday. Chef Katie Hagan-Whelchel likes to switch things up and has paired her famous buttermilk fried chicken with everything from bourbon baked beans and corn fritters to maple-sage biscuits with pork gravy and sweet corn and pepper relish with BLT biscuits and red watermelon.
4. Pine State Biscuits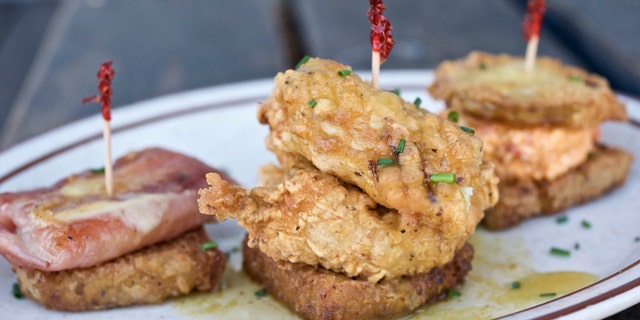 What started as a small shop in the Portland Farmer's Market has evolved into a bustling biscuit shop, Pine State Biscuits, revered for their Southern-meets-hipster sandwiches, like the Wedgie: a biscuit filled with buttermilk fried chicken, fried green tomatoes, iceberg lettuce and blue cheese dressing. If you really want to indulge your inner-fat-kid, opt for the Pine State Fried Club, a trio of fried grit cakes topped with fried chicken, spiced honey, pimento cheese, fried green tomatoes, country ham and white cheddar. Be sure to unbuckle your belt before you dig in.
5. Bandolero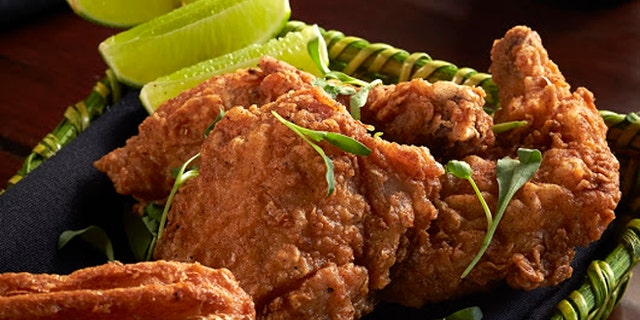 Achieving that perfect marriage of sweet and savory is half the battle when it comes to fried chicken (almost as important as striking that balance of crispy on the outside, tender on the inside). Top Chef heavyweight Mike Isabella has found both at his modern taqueria in Washington D.C., Bandolero. Using a smaller bird is his first line of defense—Isabella fries up Cornish game hens to achieve that flawless combo of crunchy, yet juicy. He then pairs the fried hen with sugary churros alongside a sweet and sour guajillo and guava sauce.
6. American Cupcake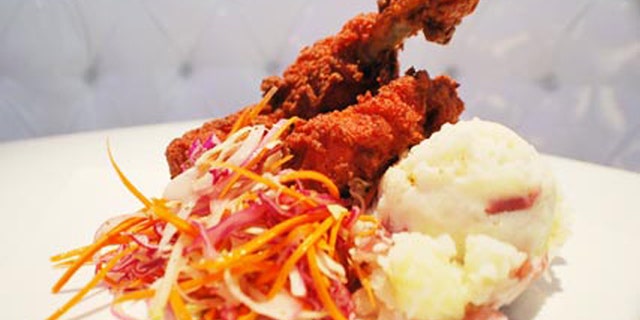 One of the biggest food trends in recent history is easily the cupcake craze. Fried chicken is on its way—but what if there was a place that combined the two? Lucky for us, American Cupcake (you may know them for their fun twists on PB&J) in San Francisco did exactly that. Three pieces of locally-raised chicken get bathed in a red velvet cake batter before being coated in cupcake bits and deep fried. To send you over the edge, the chicken is served with cream cheese-infused mashed potatoes and cocoa-infused slaw. At brunch, the chicken marries up with fluffy buttermilk waffles and maple syrup.