14 classic American drive-in restaurants that are still in operation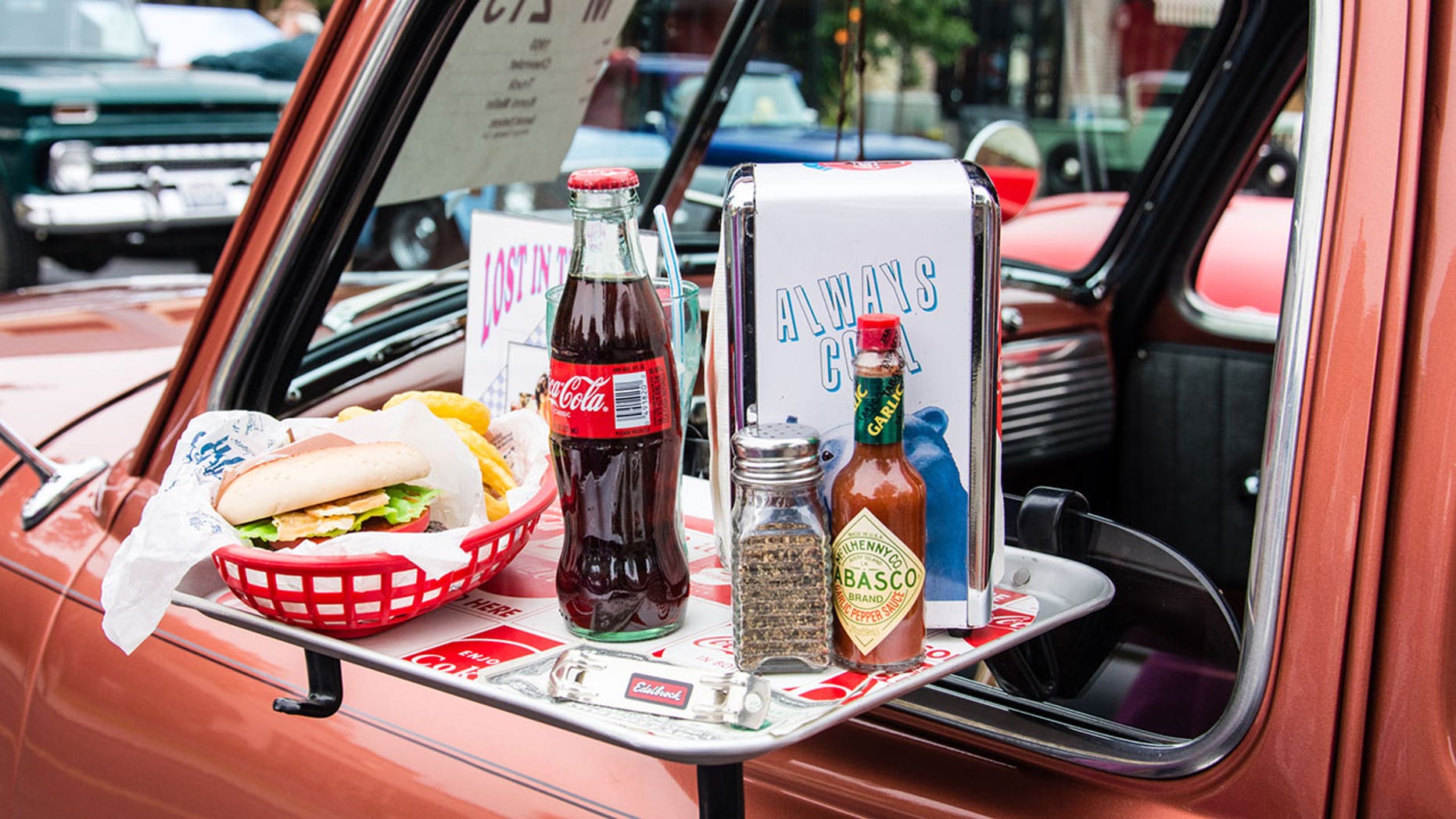 Drive-ins have been around for decades, serving up burgers, shakes and fries to any hungry customer who pulls in for a bite to eat.
But while chains like Sonic and Checkers have put a modern spin on things, nothing can replace the iconic feel of a classic 1950s-style drive-in. And lucky for us, many smaller drive-in burger joints across the country have remained open for over 60 years.
So the next time you're craving a double cheeseburger or a vanilla shake, skip the table service and check out one of these blasts from the past:
Dick's Drive-In – Seattle, Wash.
The first Dick's location in Seattle was established in 1954, and now there are a total of six Washington locations (with another on the way). The Capitol Hill location was also featured in Macklemore's "White Walls" music video.
Classic 50's Drive-In – Norman, Okla.
Founded in 1957, the Classic 50's Drive-In in Norman, Okla., actually operated as a Sonic for 28 years, according to NewsOK. Then later, after it became the Classic 50's Drive-In, Sonic actually offered to purchase the place. But when owner Juel Sweatte said he wasn't interested, Sonic opened a location a block away in the early '90s. Business never took a hit, however, and the Classic 50's Drive-In remains open to this day.
BURGER KING OFFERS FREE WHOPPERS TO PEOPLE JUST FIRED FROM THEIR JOBS
Keller's Drive-In – Dallas, Texas
Keller's has been around for over 50 years. The spot was also a favorite among bikers, though the owner claimed he would no longer serve customers on motorcycles after incidents of "unruly" behavior," Eater notes.
The Varsity – Atlanta, Ga.
The first Varsity in downtown Atlanta opened in 1928, where it became the world's largest drive-in restaurant. It's been owned and operated by the same family since, and now boasts eight locations (but not all offer curbside service). Past patrons include former presidents Bill Clinton, Barack Obama, Jimmy Carter, George W. Bush, and George H.W. Bush — though it's unclear if they all used the correct lingo while ordering.
Wayne's Drive Inn – Lawton, Okla.
Opening behind a service station as Wayne's Burger Bar in 1950, this Lawton, Okla. hangout later opened two additional locations, but the owner, Wayne, decided to sell off all but one. In 2007, Wayne's grandson, Joe, joined the family business and opened a second Drive Inn (Wayne's Drive Inn II) just a few miles away.
DRINKING MILKSHAKES MAY HELP YOU STICK TO A HEALTHIER DIET, STUDY FINDS
Matt's Place Drive-In – Butte, Mont.
Matt's, which opened in 1930 was awarded the 2016 James Beard Foundation America's Classic Award. "The food does the roadside genre proud," writes the site of the foundation, which also notes that the restaurant's "masterpiece" is the "nut burger," which comes with crushed peanuts and mayonnaise.
Ardy & Ed's Drive In – Oshkosh, Wis.
Ardy's & Ed's originally opened up as the Southside A & W Drive In in 1948. It was renamed in 1972, and has since continued to operate, serving both the staples and Ardy's & Ed's famous specials.
Dog House Drive-In – Albuquerque, N.M.
Dog House, which was featured prominently on "Breaking Bad," serves up classic fare like tater tots and foot-long hot dogs. Don't forget to top it all off with the restaurant's signature chili.
LOVE BURGERS? HERE'S 6 WAYS TO MAKE YOUR HABIT HEALTHIER
Bobo's Drive-In – Topeka, Kan.
Burgers and onion rings abound at this drive-in, which opened in 1953. During a restaurant profile for an episode of Food Network's "Diners, Drive-Ins, and Dives," Guy Fieri said he especially loved the crust on Bobo's burgers, which they attribute to their flat-top grill.
Doumar's – Norfolk, Va. 
Also featured on "Diners, Drive-Ins, and Dives," Doumar's now serves North Carolina-style barbeque in addition to the waffle cones first created by restaurant founder, Abe Doumar, in 1904. He actually started with a chain of ice cream stands before opening the current location in 1934 — though he still makes his cones with the original machine.
The Parkette Drive-In – Lexington, Ky.
The Parkette opened in 1951, and had sold an estimated 19.2 million of their unique "Poor Boy" burgers by 1991. Co-owner Randy Kaplan even cooked up the restaurant's Kentucky Hot Brown Burger on an episode of "The Rachel Ray Show" in 2013.
GUY FIERI OPENS RESTAURANT IN WORLD'S LARGEST RETIREMENT COMMUNITY
Jerry's Curb Service – Beaver, Penn.
This spot offers an "old meets new" experience where carhops use hand-held units instead of paper and pen to take orders, but everything is still cooked the old-fashioned way. Jerry's has been family owned since 1947, too.
Charlie's Drive-In – Hortonville, Wis.
Owned by the same family since 1965, Charlie's is more than just a place to grab burgers and fries: Every Tuesday, classic car enthusiasts and hot-rodders gather at Charlie's to show off their rides to the public. And while the restaurant's website hasn't been updated since 2014, TripAdvisor reviews and Instagram evidence indicates that Charlie's is still very much alive and well.
Dandy's Drive-In – Bend, Ore.
Opened in 1968, Dandy's has been serving up classic burgers and shakes curbside for decades. The staff even wheels out your order on roller skates — just like they always have.