132-year-old lobster 'pardoned' by seafood restaurant, released into the ocean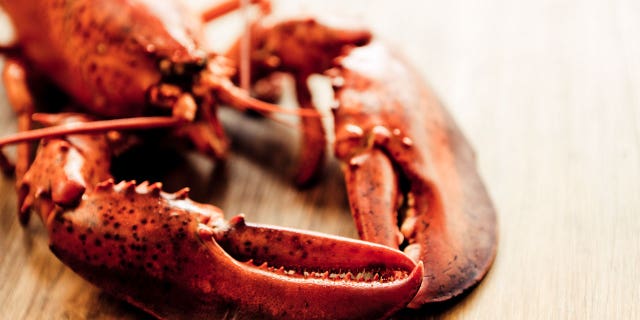 NEWYou can now listen to Fox News articles!
In honor of National Lobster Week, a seafood restaurant in Long Island has released one of their oldest living lobsters back into the wild.
Louie the Lobster has lived for the past few decades in a tank at Peter's Clam Bar in Hempstead, N.Y., where owner Butch Yamali has treated Louis more like a pet than a soon-to-be special.
"He's the largest and oldest of all my lobsters," Yamali told the New York Post about his 22-pound, 132-year-old crustacean. "It's happy and sad."
RARE BLUE LOBSTER CAUGHT IN MASSACHUSETTS
According to the site, Yamali inherited Louie when he bought Peter's Clam Bar four years back, and has refrained from selling him to hungry customers — including one recent patron who offered a thousand bucks for the privilege of dipping Louie in butter.
"He said, 'I want to bring it home for a Father's Day feast,'" Yamali told the New York Post. "I mean, that would've been some impressive feast. But I didn't want to sell it.
"It's like a pet now, I couldn't sell it," Yamali added.
Knowing he could never bring himself to put Louie in a pot, Yamali instead organized a ceremony whereby Louie would be pardoned and released into the wild. The town supervisor, Anthony Santino, even drew up a pardon to sign during the event.
SEAFOOD COMPANY KILLS LOBSTER, ACCUSED OF AMIMAL CRUELTY
"Today I'm announcing an official pardon for Louie the Lobster," said Santino. "Louie may have faced a buttery fate on a seafood lover's plate, but today we are here to return Louie to a life that is better down where it's wetter."
FOLLOW US ON FACEBOOK FOR MORE FOX LIFESTYLE NEWS
Louie was dropped off at an Atlantic beach reef near the village of Island Park. According to Bob Bayer at the Lobster Institute in Maine, who spoke with the Post, ocean predators will likely ignore Louie because of his age. The old crustacean may even be able to find a mate, according to the expert.
The New York Daily News further reports that Peter's Clam Bar had also pardoned another lobster — Larry — in June 2016.