Mormon temple long shrouded in secrecy briefly opens doors to the public
Oakland's Mormon Temple, a hilltop landmark long shrouded in mystery to millions of its neighbors, is opening its doors to the public -- but only for a short time. After a 14-month closure to complete renovations, the 55-year-old temple is attracting huge crowds before it is rededicated next month.
After June 1, it will be closed to all but devout Mormons.

"We wanted to share it, and have the public understand that this is just a place to come and worship," said Elder Jay Pimentel, a church leader in the San Francisco-Oakland Bay Area. "We don't baptize dead bodies inside, we don't have secret rites. We want to demystify some of the fanciful rumors that get circulated."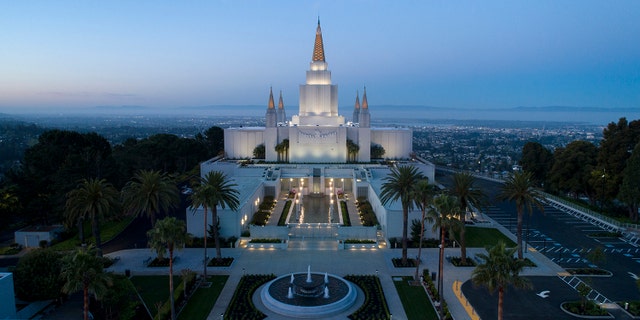 Dubbed "the beacon on the hill" because of its bright lights visible for miles at night, the 90,000-square-foot temple is known for its imposing granite walls, monolithic architecture, and five golden spires, the tallest reaching 170 feet.
MORMON MISSIONARIES NOW PERMITTED TO PHONE HOME ONCE A WEEK

"We've lived in the area ever since it opened in 1964," said Helen Rosenberg, who along with her husband Larry had just finished the free, hour-long tour. "We always wanted to see the inside, and it's magnificent."

Rather than a soaring cathedral, the temple is designed as more of a monument, and is unique among Mormon temples because it has no windows.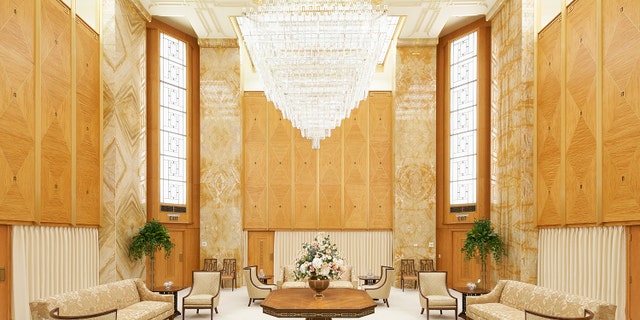 Instead, visitors flow through a series of modestly decorated rooms that serve a variety of specific functions. There is the baptistry, where a pool perched on the backs of 12 carved oxen accommodates a full immersion in water. There is a vast instructional room where members attend sessions to receive insight, knowledge and understanding.
CHURCH OF JESUS CHRIST OF LATTER-DAY SAINTS OPENS MORMON TEMPLE NEAR VATICAN IN ROME
Contemplation and reflection happen under a massive chandelier in the elegant "Celestial Room."
Ceremonies, including for weddings, have their own rooms. Visitors learn that only members of the Church of Jesus Christ of Latter-Day Saints in good standing, who have a signed authorization card from their local church leader, may enter, and they must wear white clothing, which symbolizes purity and equality before God. The Temple is mainly used during the week, and is staffed by volunteer members.

The goal of the remodel, says Elder Pimentel, "is to represent a heaven on Earth for us, where we can meet God halfway. I like to come here because I feel like I am closer to heaven."
CLICK HERE TO GET THE FOX NEWS APP
While the grounds around the temple are always open to the public, he predicts a quarter million people will seize this rare opportunity to go inside, adding it's unlikely it will be open to non-church members again during our lifetime.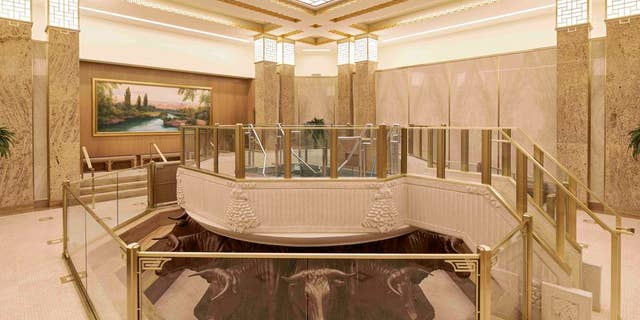 "When new temples are first built, they're open to the public. But we're not going to build a new temple in Oakland- this one is here to stay. So if anyone wants to see it, they should come now."

In the months ahead, newly refurbished temples of Church of Jesus Christ of Latter-Day Saints in Raleigh, North Carolina, Baton Rouge, and Washington, DC, will open their doors to the general public before they are rededicated. There will also be tours of new temples in Haiti, Portugal, and Germany this summer. For a complete listing, visit https://www.lds.org/temples/open-houses