Zoe Saldaña reveals she was bullied as a kid, says she hated 'girly' things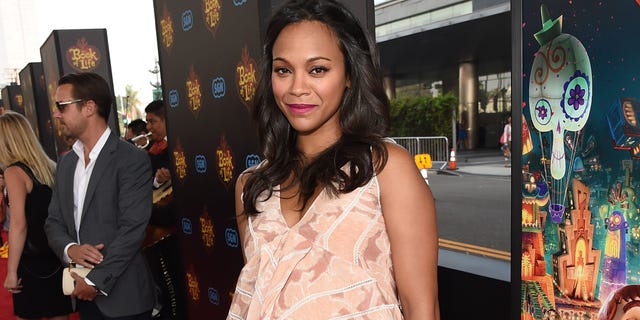 Zoe Saldaña knows what bullied kids go through in school, because she was one of them.
The "Guardians of the Galaxy" actress revealed on the Queen Latifah Show on Tuesday that she was bullied as a child, but was able to overcome it with the help of her mother.
"It was really hard. Because I love women," she said. "For a long time in my life, when I was younger, I sort of gave up trying to find female friends, because girls can sometimes be a little too mean with each other. And I don't know where it comes from; as opposed to us uniting, we tend to pick each other apart. It was very, very difficult. I remember my mom always stood by us."
The actress, who grew up in the Dominican Republic, continued: "She would talk it through. She never uplifted us by putting someone else down. See, she would try to make us understand, 'look there is probably something going on in their lives,' or 'you need to understand, as a person, nobody bullies when they're happy."
Saldaña said she began to understand that a bully is the unhappiest person in the room at that moment. Once you know that, she said, "you know he [or she] is the one that feels most scared; the bully is the one that has very little regard for himself, very poor self-esteem."
"Once you understand that reality about a bully, you have won already," she continued. "And you stick to the people that make you feel really good about yourself. But the one person that has to feel good about yourself is you. It takes practice. It's not easy."
The "Avatar" actress also revealed that she hated "girly" things growing up and that every year she dressed up as a ninja for Halloween.
"My little sister was a cute little bug. Every year she was either a butterfly or caterpillar or something," said Saldaña, who is expecting twin boys with husband Marco Perego. "My mom would really have fun with my older sister and she would be either Cleopatra or Nefertiti or the rocker chick. And it's like, Zoe, what do you want to be? A ninja. It wasn't very fun. But I guess I was always … I don't know, I was very stunty. I liked playing with boys. The healthy way when I was younger, of course."
She continued: "I was always adventurous. And anything that felt too feminine and girly, like 'don't get up because you have this beautiful dress' and 'I don't want you to mess up the dress.' I would look at my mom, like, 'come one now. What's the point of bringing me into a kidding birthday to put me in a dress and tell me I can't play with the kids? Are you out of your mind?' I would take off the dress, give it to my mom and go run around in my panties."
Follow us on twitter.com/foxnewslatino
Like us at facebook.com/foxnewslatino