'X-Men: Days of Future Past': Adan Canto Talks About Playing Superhero Mutant Sunspot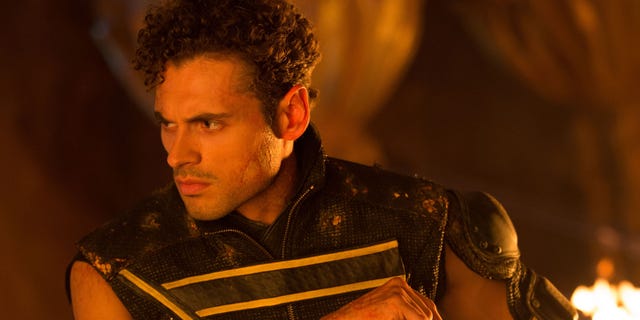 NEWYou can now listen to Fox News articles!
Growing up, actor Adan Canto was a very active kid and was not really into comic books.
Fast forward several decades and the 32-year-old actor could now probably write a novel about the superhero mutant Sunspot. It's all thanks to all the research he did to prepare for his role in the next installment of the "X-Men" franchise.
"I didn't want to fall short. I wanted to be prepared," Canto, who played Paul Torres on the TV series "The Following," told Fox News Latino. "I kept to the comic books because I didn't want to have a visual distraction."
In "X-Men: Days of Future Past," the Mexican actor plays Robert da Costa, a.k.a Sunspot, an Afro-Brazilian mutant from the future that has the power to absorb and channel solar energy.
"He didn't (always) have the capability and he was kind of a victim of it," Canto told Fox News Latino. "It was more of a burden than a superpower for him."
As the story goes, Sunspot got his power while at a soccer game where he was being bullied by others. He got so angry that his powers manifested and he ended up injuring several people. Eventually people wanted to kidnap him to use him as an experiment which led him to joining the "X-Men."
"(The films) create a parallel for people feeling misunderstood. Sunspot is a very fiery guy," Canto said. "As a teenager I got angry quickly (like him) until I learned to process it all and not be a hot head."
"X-Men: Days of Future Past" is set in a dark future where mutants are being exterminated. In order to change a major historical event, characters from the original "X-Men" film trilogy join forces with their younger selves from the past in order to save their future.
"It was fantastic to work with people I have always looked up to," Canto said. "It was great to show up to a set and really get to see how they go about it all."
Hugh Jackman, Ian McKellen, Halle Barre, Patrick Stewart, James McAvot, Jennifer Lawrence and Ellen Page also star in the high-action film.
To prepare for his many fight scenes, Canto said he didn't have to do much more than his normal workout.
"I am a pretty active guy (so) I just took it to the next degree," he said. "I focused a lot on my movement because you are huffing fire, jumping and preparing to fight. It was a lot of endurance."
"X-Men: Days of Future Past" hits theaters nationwide Friday.
Follow us on twitter.com/foxnewslatino
Like us at facebook.com/foxnewslatino