Wrestling legend Bret 'Hitman' Hart reveals he has prostate cancer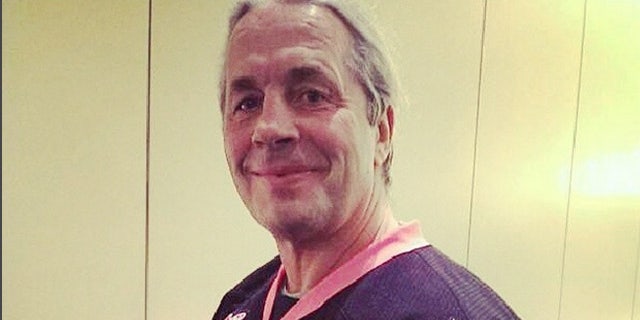 Bret "Hitman" Hart is widely regarded as one of the greatest professional wrestlers of all time, and now, the 58-year-old legend is gearing up for the fight of his life.
Hart penned an emotional message to fans on his Facebook page on Monday, in which he announced that he had been diagnosed with prostate cancer.
"I've had a great lifelong dance and I'm a survivor of many hard battles," wrote the wrestler, who also suffered a stroke in 2002 and faced "a devastating career-ending concussion and numerous surgeries" after 23 years in the ring. "I now face my toughest battle. With hesitation and fear, I openly declare myself in my fight against prostate cancer. In the next few days, I will undergo surgery with the hope of defeating this nemesis once and for all."
NEWS: Pro Wrestling Legend 'Rowdy' Roddy Piper Dies at 61
Hart, who was a seven-time world champion and the only two-time King of the Ring winner during his illustrious career, pledged to fans to fight the disease with the help of his friends and family.
"I make a solemn vow to all of those that once believed in me, the dead and the living, that I will wage my fearsome fight against cancer with one shield and one sword carrying my determination and my fury for life, emboldened by all the love that's kept me going this long already," he continued. "Love is my weapon and I've got much of it around me all the time, for which I'm truly blessed and eternally grateful. My children, grandchildren, and my loving wife Steph have been and will constantly be at my side. I refuse to lose, I will never give in or give up, and I will win this battle or die trying."
NEWS: WWE Wrestler Dusty Rhodes Dies at Age 69
The wrestler also hopes to raise awareness about the disease through his fight, drawing on the strength of "many adults and young children I've met throughout my life who courageously fought and usually lost in their battles against this deadly disease"
"My fans have always looked upon me as a hero and I've always done my best to live up to that in and out of the ring," he concluded. "I hope I can take the fight to prostate cancer. To be a leader in awareness and to set the example for men everywhere who find themselves in my very same shoes, that prostate cancer can be beaten."