Why Susan Sarandon signed on to play Bette Davis in 'Feud'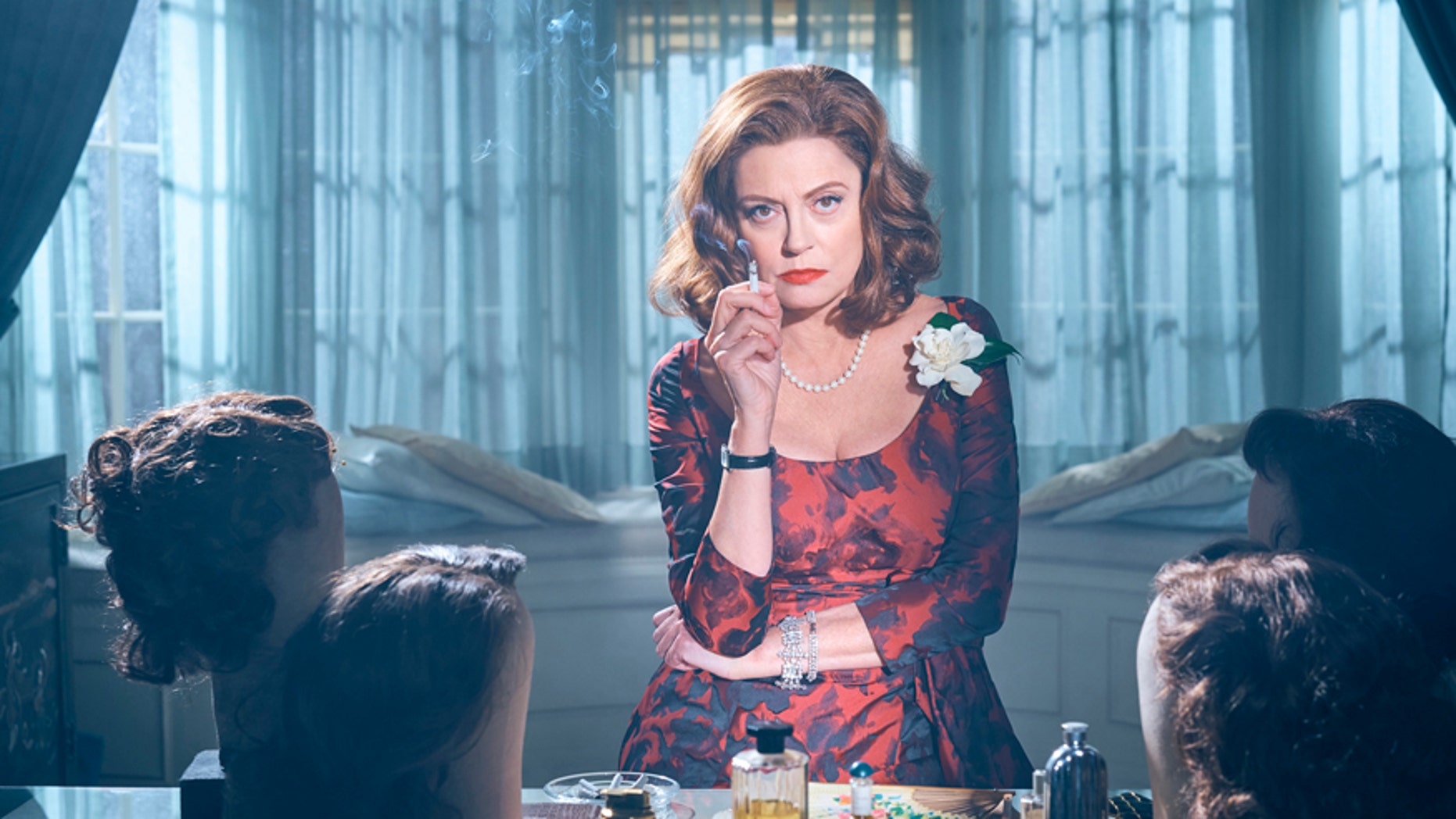 Pasadena, Calif. – Ryan Murphy's new FX show "Feud" dives into the relationship between Hollywood icons Bette Davis and Joan Crawford as they co-stared in the Oscar nominated film "What Ever Happened to Baby Jane?" Susan Sarandon plays Davis and Jessica Lange plays Crawford, and the eight-episode series also stars Stanley Tucci, Catherine Zeta-Jones, Sarah Paulson and Kathy Bates.
Sarandon told Fox News at the Television Critics Association Winter Press Tour that seeing herself in costume as Bette Davis was shocking.
"I made the mistake of answering FaceTime when I was in the Bette Davis white face with my granddaughter, and I just saw her stop and I realized she was terrified and I said, 'Do you like my clown makeup?' She didn't even smile. So that is definitely startling when you see that look. I was glad to be out of that and also it gets everywhere on everything."
The Academy Award winner said that by playing Davis allowed her to look at herself in a new light. The show examines ageism and sexism as Davis and Crawford are in the height of their stardom.
"I learned a lot about her that I didn't know for sure… I've never thought of myself as old, and I definitely had to think of myself of over on the other side, inside I don't feel that way so she did make me examine certain things."
And the 70-years-old actress said that her co-star Lange was instrumental in getting her to sign on for the role.
"I've known Jess for a long, long time because you know as you survive in this business a lot of people fall away— a lot of women are no longer around working as much as we have been lucky to work," she said. "Yes, because she (Lange) was very enthusiastic and Ryan [Murphy] was enthusiastic, and I've never signed on for something when I've only seen a tiny piece of it…. I didn't have any idea where it was going…"
Murphy told reporters he wanted to do the show because of the emotion behind the story.
"We were interested in doing a show about two women and their lives and the problems that they had," he said. "I wasn't really interested in doing anything that was 'campy.' I was interested in something a little deeper and a little bit more emotional and painful."
Murphy said the show can connect with what some women are going through today.
"What I love about the show is the themes and issues in the show are so modern and women are still going through that sort of stuff," he said. "And nothing has really changed. We really wanted to lean into that aspect of the show. Although I do still think they're hilarious and their interactions are hilarious, so we didn't want to avoid that, but we wanted to hopefully take it away from what people would expect and make it a little bit more emotional."
"Feud" premieres March 5th on FX