Why Is 'Gay' Joke on 'The Office' Different Than 'Gay' Joke in 'The Dilemma'?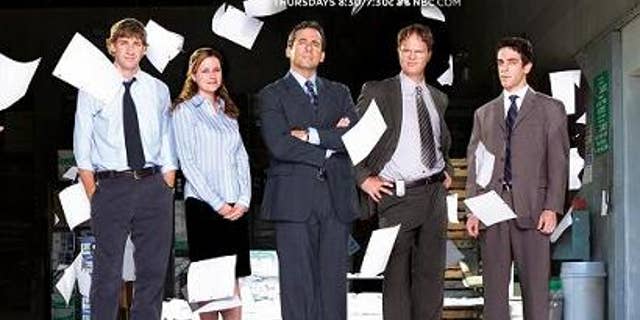 In the wake of the recent suicides as a result of gay bullying, Vince Vaughn came under fire when he defended his character's joke in the upcoming Ron Howard comedy "The Dilemma."
Vaughn's character in the movie says "electric cars are gay."
GLAAD (The Gay and Lesbian Alliance Against Defamation) was quick to condemn the dialogue and urged supporters to encourage the studio to remove the phrase from the film.
But last week, NBC's hit show "The Office" featured a similar joke.
In the October 14 episode entitled "Sex Ed," Michael (Steve Carell) contracts herpes and orders Oscar (Oscar Nunez) into his office because they "once sucked face as part of an office presentation to destroy the stigma about gay kissing" and now feels Oscar may have given him "a sexually transmitted disease." Carell's character and Dwight (Rainn Wilson) then embark on a tirade against a shocked and confused Oscar.
----
Dwight: I'm going to need a list of every man you've ever had sex with; I'm talking train stations, men's rooms
Michael: Flower shops, fireworks celebrations

Dwight: Fence with a hole in it

Michael: Moonlit gondola, carriage ride through Central Park

Dwight: The woods behind the liquor store, the swamp behind the old folk's home

Michael: Electric car dealerships

Dwight: The Democratic primary
---
Is this another example of the kind of language GLAAD and others were upset with?
Apparently not.
Reps for NBC did not respond to requests for comment.
CNN host Anderson Cooper , who brought public attention to the joke in "The Dilemma" film trailer when he appeared on "The Ellen DeGeneres Show," also declined to comment.
GLAAD wouldn't comment, either.
In defending his "Dilemma" joke last week, Vaughn lent his support to those outraged by the "bullying and persecution of people for their differences," but also questioned why the joke was being singled out.
"Drawing dividing lines over what we can and cannot joke about does exactly that; it divides us. Most importantly, where does it stop," he said.
So where does it stop? Who draws the lines? And why isn't the scene in "The Office" condemned the same way "The Dilemma" was?
"'The scene in 'The Office' definitely pushes some boundaries in terms of stereotyping," said Hollywood pop culture expert Scott Huver. "It is somewhat surprising, though, that Oscar isn't given the last word to underscore Michael and Dwight's cluelessness."
TheFrisky.com's Editor-in-Chief Amelia McDonell-Parry, who told Pop Tarts previously that "The Dilemma" gay joke was 'lame' and subsequently inappropriate given the current social climate, doesn't believe "The Office" should be compared to the film. She said the show has an ongoing theme portraying Carell's character is awkwardly inappropriate when it comes to the homosexuality of his employee, Oscar.
"Michael Scott (Carell) is an endearing character, but he's also a complete buffoon -- the entire show is based around that notion. Though he often makes jokes and inappropriate or ignorant remarks about Oscar being gay -- including on this most recent episode -- it's Michael, not Oscar, who the audience is really laughing at. He, and his idiocy and ignorance, is the real butt of those jokes, notOscar," McDonell-Parry said. "Couple that with the fact that all of the so-called 'gay jokes' on 'The Office' are far better written than the one cheap shot, who's sole message is that 'gay = lame,' in 'The Dilemma' and you have a clear cut case of not the same at all."
So what is and isn't acceptable by Hollywood standards when it comes to "gay" jokes?
"Our society has entered a delicate territory when it comes to mining comedy from gay characters and situations. While gay topics are finally being treated more openly and directly, occasionally attempts to make things funny are going to push certain people's buttons, and probably rightly so in many cases," Huver said. "Without a specific outcry from the public, it's unlikely that 'The Office' scene would be deleted, and there are likely many gay audience members who found genuine humor in it. But comedy's always so subjective, no matter what the topic. So as an open public dialogue on gay issues a nd characters continues to evolve, there may be several unexpected landmines for film and TV comedy writers along the way."
- Deidre Behar contributed to this report.