Whoopi Goldberg calls out Roseanne Barr for Photoshopped retweet: 'You did this to yourself'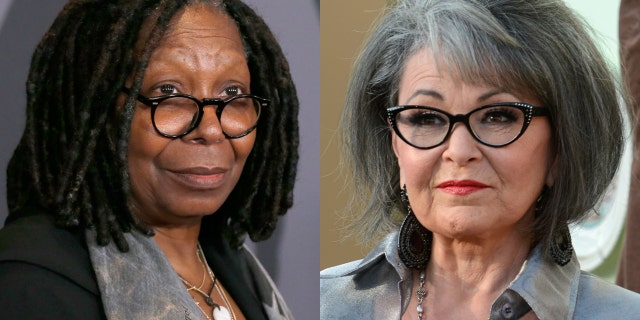 NEWYou can now listen to Fox News articles!
"View" host Whoopi Goldberg has lashed out at Roseanne Barr for sharing a graphic, Photoshopped image of Goldberg on Twitter.
Following the news of her TV show cancellation, Barr decided to share her feelings by retweeting others who supported her.
In doing so, Barr took aim at Goldberg by retweeting a Photoshopped image of the host at the 2017 Women's March wearing a shirt that read "Make America Great Again" with a graphic, bloody image of President Trump holding a gun to his head.
A Twitter user shared the since-deleted tweet and wrote, "Out of curiosity @ABC & @Disney this is okay with you? Hypocrisy on the Left is sickening."
The real message on Goldberg's Women's March shirt read, "And you thought I was a nasty woman before? Buckle up, buttercup."
The 62-year-old host talked about the Photoshopped tweet on Wednesday's episode of her show.
"In her Twitter rant following the cancellation, [Barr] also retweeted a false picture of me. So here we go again. Here is the truth about the shirt I was wearing at the Women's March in New York," she explained. "Now some bonehead Photoshopped a horrific image on the shirt. And she retweeted this."
The award-winning actress then directly addressed Barr and stated, "So this is what I'm gonna say, Roseanne. Just because you were caught with your pants down, don't try to drag other people down with you. You understand? Don't do that … The bottom line is simply this: I didn't fake my shirt, someone else faked my shirt. But that's your tweet. That tweet came from you. So that's yours. You did this to yourself."
Barr's hit series was canceled after she posted a racist tweet.
She initially issued an apology for her remarks but then defended herself in a tweet on Wednesday.
She wrote: "I'm not a racist, I never was & I never will be. One stupid joke in a lifetime of fighting 4 civil minorities, against networks, studios, at the expense of my nervous system/family/wealth will NEVER b taken from me."