Whitney Houston's ex Bobby Brown wants to 'slap' Kanye West for Pusha T's 'Daytona' album cover photo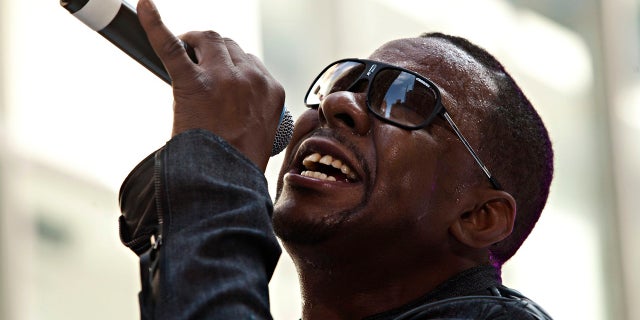 NEWYou can now listen to Fox News articles!
Whitney Houston's ex-husband, Bobby Brown, claims he may be "just the person" to slap Kanye West after the rapper decided to use an image of Houston's bathroom for an album cover.
The photo is featured on Pusha T's "Daytona" album, which West produced and was released Friday. West reportedly shelled out $85,000 to license it, according to Rolling Stone.
"Why would he post that on his album cover?" Brown asked.
The "My Prerogative" singer told Rolling Stone it was "really disgusting" and in "really bad taste" that West would choose that image for the album.
"Something should happen to Kanye. He's already crazy. I knew that when I first met him. Now he's pushing the bar a little bit. He needs somebody to slap him up or something. And I'm just the person to do it," he told the magazine.
DRAKE SAYS PUSHA T USING BLACKFACE PHOTO OF HIM OUT OF CONTEXT
The 2006 image used on the new album was also used on a National Enquirer cover for a story about the singer, People reported.
In 2012, Houston's body was discovered in a bathtub. Her death "was ruled an accidental drowning, with heart disease and cocaine use also to blame," the report said.
Pusha T spoke about an early-morning phone conversation with West about changing the "Daytona" cover art in a Power 105.1 interview last Wednesday.
"1 a.m., my phone rings, no caller I.D.," Pusha T explained, claiming that Kanye told him, "Yo, hey, yeah, I think that we should change the artwork and um, I like this other artwork."
"Now, this other artwork is 85 grand," Pusha T said. "I said, 'Hey, I don't want to pay for that. And I wasn't even going to ask you to pay for that. We picked what we picked. You know, it's here, it's ready.'"
He added that West told him, "'No, this what people need to see to go along with this music. I'ma pay for that.'"