'Watchmen' Takes Box Office Crown With $55.7M Weekend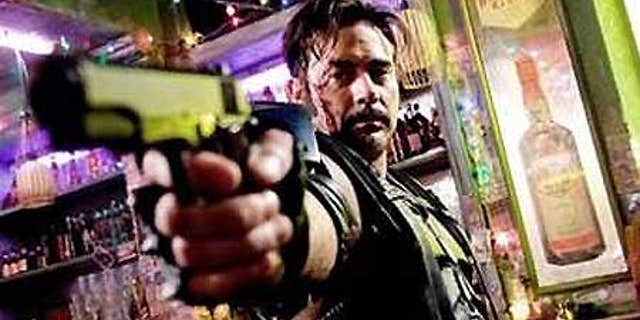 LOS ANGELES – "Watchmen" clocked in with $55.7 million in ticket sales to claim the top spot at the box office, making director Zack Snyder's comic book adaptation about a team of twisted superheros the biggest opening of 2009 so far — but not quite as massive as the $70 million take of Snyder's "300" in 2007.
Dan Fellman, head of distribution for "Watchmen" studio Warner Bros., said it was unfair to compare the two.
"They're two different movies," Fellman said Sunday. "This is a movie that runs two hours and 45 minutes. That really only leaves the exhibitor with one showing a night. If you have an 8 o'clock show, the next show is at midnight. So with essentially one show a night, I think this is outstanding."
Fans of the subversive comic book series by writer Alan Moore and illustrator Dave Gibbons waited years for Snyder's big-screen version. The anticipation was complicated last year when Warner Bros. and 20th Century Fox grappled over who owned rights to the $125 million film. The studios eventually settled in January, keeping the March 6 opening intact.
Many "Watchmen" enthusiasts raced to IMAX theaters to see the exploits of Dr. Manhattan and company. Greg Foster, chairman and president of IMAX Filmed Entertainment, said the movie sold out on all 124 IMAX screens it was playing on over the weekend and was the second largest opening in company history behind another superhero film, 2008's "The Dark Knight."
With no other new releases to compete against, "Watchmen" easily bumped off "Tyler Perry's Madea Goes to Jail," which had held the top spot the two previous weekends. The Lionsgate comedy took in $8.8 million, good for second place, according to studio estimates Sunday. 20th Century Fox's "Taken," starring Liam Neeson, took the No. 3 position with $7.5 million.
For the year, movie attendance continues to soar, with revenue at $1.9 billion, up 16 percent through the same point in 2008. Factoring in 2009's higher ticket prices, movie attendance is still running 14 percent higher than last year.
Despite that sustainable boon, Disney's "Jonas Brothers: The 3D Concert Experience" dropped from No. 2 to No. 9 at the box office.
"There have been some casualties this year," said Paul Dergarabedian, president of box office tracker Media By Numbers. "Not every film can be a hit — even during this box-office bonanza we're having right now. It dropped about 78 percent the second weekend. It's a young audience. The ones that wanted to see the Jonas Brothers came out last weekend."
Estimated ticket sales for Friday through Sunday at U.S. and Canadian theaters, according to Media By Numbers LLC. Final figures will be released Monday.
1. "Watchmen," $55.7 million.
2. "Tyler Perry's Madea Goes to Jail," $8.8 million
3. "Taken," $7.5 million.
4. "Slumdog Millionaire," $6.9 million.
5. "Paul Blart: Mall Cop," $4.1 million.
6. "He's Just Not That Into You," $4 million.
7. "Coraline," $3.3 million.
8. "Confessions of a Shopaholic," $3.1 million.
9. "Jonas Brothers: The 3D Concert Experience," $2.8 million.
10. "Fired Up," $2.6 million.