War hero Noah Galloway angry about rehearsal spat shown on 'Dancing With The Stars'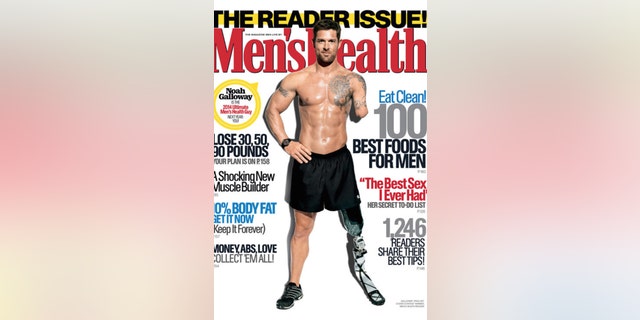 Double amputee veteran Noah Galloway was outraged when "Dancing with the Stars" aired rehearsal footage Monday night that showed him having a spat with partner Sharna Burgess.
Viewers saw Galloway look visibly upset on camera as he believed the package made Burgess look bad—and host Tom Bergeron and the judges had to soothe him after his rumba performance.
In the rehearsal clip, a testy Galloway was shown telling Burgess he wanted "a little bit of respect" after she appeared to boss him around.
They hugged and made up, but backstage, the army veteran (who lost two limbs while fighting in Operation Iraqi Freedom in 2005) was still upset about how the incident was depicted on TV.
Galloway and Burgess had to dance right after seeing their rehearsal segment for the first time and he told FOX411, "It kept building, the feelings I had inside. I was getting so angry I couldn't think about the steps."
He explained to reporters, "The argument was my fault, but that wasn't portrayed in the package the way it was edited ... and ... I'm not used to that and [I'm] ... not the type of person that someone I care about is going to look bad when it was my fault.
"So I couldn't get it out of my head the entire dance," he said. "She told me backstage, 'It's reality TV. That's what it is,' but I'm like, 'I am not set up for reality TV.'
"I'm protective of my friends. I've always been that way."
Burgess, a longtime DWTS pro, noted, "He went into battle for me and went in to protect me, 'No, it wasn't her fault, it was mine!' I think that is so sweet."
Meanwhile, Galloway said, "It was a lesson learned for me. It's like, if we're going to argue about something, let's not do it in front of the camera."
The brave military man told FOX411 that he and Burgess both expressed what was bothering them during the incident and then they had "great communication skills between us and we were fine. The argument didn't even last that long. We worked it out. We're really close."
Burgess said that Galloway got so obviously steamed about her being painted in a bad light that host Tom Bergeron even mentioned it on the live show.
For her part, Burgess said, "The [TV rehearsal] package didn't rile me up at all. I'm used to that. I've been here for many seasons now. I know that if you have a three-minute argument in a 40-hour week of rehearsals, they're going to use that argument because we need to see diversity [of] what couples go through.
"But it didn't play well for Noah, he felt like it was misused."
Although both Galloway and Burgess thought the controversy impacted their romantic spring break-themed dance, they still received a solid score of 29 out of 40.
And, while co-star Patti LaBelle was eliminated on Monday night, the soldier and his dance pro are now looking forward to week 7 of "DWTS", where they hope to have a happier experience!